SoCalEquine.com is Proud to Present These California Equestrian Businesses & Clubs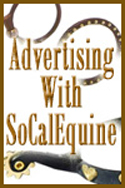 Welcome
Our mission at the Southern California Equestrian Directory is
to help our Equestrian industry continue to grow and thrive.
YOUR Success is Our Success!
Viewers can find the products and services located throughout California in one great source right here within the Southern California Equestrian Directory. Our directory is loaded with horse related items, products and service providers located right here in California, which is unmatched. New information is added daily throughout the week. We listen to your suggestions and strive to have an easy to navigate format for viewers to find just what they are looking for.

At SCED, we offer a means for every level of equestrian related business the opportunity to expose their business to a large horse interested viewer base.
Visit our Site Map for the full list from A to Z.
Ride Life! The Reins . . .


by Dawn Jenkins


What can we learn from horses, and horseback riding, that will help us to Live our day-to-day Lives? Turns out, plenty. I refer to this as: Ride Life!




Horses. Unpredictable, thousand-plus-pound animals that we humans, throughout the centuries, somehow learned to tame, control, direct and partner with — from marching to battle and plowing fields, to racing and hunting . . .
To meandering trails and wild-paced gallops — just for sheer joy and pleasure!
I'm often amazed at the similarities between successful riding and controlling our horses, and Navigating the Potentially Out-of-Control Ride we all call Life...

Read More......


Bits of Wisdom:
Riding a Square

Why You Do It

This exercise helps correct the horse that "falls through" his outside shoulder (on the outside of the square). This means the horse's weight falls to that shoulder – a problem that is usually caused either by the rider's inadequate use of the outside rein or the horse's inadequate response to it. Because this exercise calls for riding straight lines without inside flexion...

Read More......



| | |
| --- | --- |
| | Additions to Southern California Equestrian Directory |