SoCalEquine.com is Proud to Present These California Equestrian Businesses & Clubs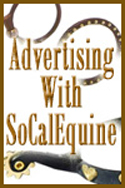 Welcome
Our mission at the Southern California Equestrian Directory is
to help our Equestrian industry continue to grow and thrive.
Viewers can find the products and services located throughout California in one great source right here within the Southern California Equestrian Directory. Our directory is loaded with horse related items, products and service providers located right here in California, which is unmatched. New information is added daily throughout the week. We listen to your suggestions and strive to have an easy to navigate format for viewers to find just what they are looking for.

At SCED, we offer a means for every level of equestrian related business the opportunity to expose their business to a large horse interested viewer base.
Visit our Site Map for the full list from A to Z.
The secret is out…
a hidden gem in the heart of Los Angeles



Written by Dressage student, Boarder, Therapeutic Riding Instructor (C.A. Collins)




Someone once said, "Horses find us, we don't find them." There might be some truth to that because I unexpectedly came to own my own horse (that's a long story) who is now happily boarded at The Paddock Riding Club. He has 55 miles of trails to explore, many various arenas to choose from, lots of friends and best of all, he is safe, and extremely well cared for when I'm away...

Read More......


Competition hosting ~ Community Benefits

Jody Childs of Fallbrook, Ca is now the Regional Manager for The American Competitive Trail Horse Association (ACTHA) for the states of California, Arizona, and Nevada. Jody says: "I love this casual competition that builds the relationship between the horse and rider with fun obstacles and skill challenges. I have competed since 2009 and have hosted rides locally. Now I get to help fellow trainers that are looking for something to teach their students, and people that would like to make significant money holding these events"...
Additions to Southern California Equestrian Directory


Trying to Save Wild Donkeys Starving from the Drought


The extreme California drought is taking its toll on about 250 Wild Donkeys in Reche Canyon, Colton, CA . These donkeys were abandoned by some miners years back and have multiplied and no longer can just live off the land. They are wandering onto private ranches and some ranchers are trying to help but there is NO FOOD and little to NO WATER for them to sustain much longer. We are running into a lot of red tape to get any government agency to help. Because they are wandering onto private land the government won't help. The rescues can't come and get them without mounds of paperwork from a government agency. In the meantime they are STARVING.

We are looking for assistance to feed the donkeys until we can get though all this bureaucracy. We wondered if you would consider donating some feed for the donkeys. We really want to re-home the donkeys ASAP. We need to find ranchers that might want to take some. We need donations. We need advice how to handle BLM and other obstacles. Please contact me with any advice you might have. Thanks for your attention. Janice DeBard 909-338-5335 janice612@yahoo.com

Read More......