SoCalEquine.com is Proud to Present These California Equestrian Businesses & Clubs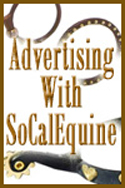 Welcome
Our mission at the Southern California Equestrian Directory is
to help our Equestrian industry continue to grow and thrive.
Viewers can find the products and services located throughout California in one great source right here within the Southern California Equestrian Directory. Our directory is loaded with horse related items, products and service providers located right here in California, which is unmatched. New information is added daily throughout the week. We listen to your suggestions and strive to have an easy to navigate format for viewers to find just what they are looking for.

At SCED, we offer a means for every level of equestrian related business the opportunity to expose their business to a large horse interested viewer base.
Visit our Site Map for the full list from A to Z.

Sara R. Fogan, C.Ht. is a certified hypnotherapist based in Southern California. She graduated with honors from the Hypnosis Motivation Institute in 2005.




If you ride and/or work with horses, you probably understand what I mean when I say that the relationship humans share with their equine partner(s) is one of the most intense experiences you may ever share with another being. We admire the power, beauty and freedom that horses represent; we want to ride the so we can know how it feels to fly without wings. We are infatuated with the myths and stories about those equine ambassadors that showed apparent loyalty to their humans, and we want to experience that kind of devotion in our lives. Unlike the dogs, cats and other small domesticated animals with whom we share our lives and homes...

Read More......


Riding:
The Allure, The Passion, The Obsession

Horses and riding have always allured me, and the intellectual side of myself has, from time to time, tried to figure out — Why? What calls my Soul to horses? Why is it that nothing else will quite do? Join me on my quest to discover what it is, and why, us horse people must ride.

California: Pacific Crest Trail, off Liebre Mountain — Springtime, 2002. Buckeyes are just beginning to pop with small brilliant lime-green 'palm trees' bursting out at the end of the branches. The tree we pass now is overgrown and grabbing for my face; I duck hurriedly and just miss it. Now we glide past gooseberries with stalks of shiny green leaves and delicate red florets. Now more buckeyes. Now a grove of clustered, densely-packed oaks with textured gray bark and bluish leaves. This is one of my favorite places, a steep incline at the Northern reaches of the Angeles National forest, above the vast Mojave Desert and the great Tejon Ranch. Time stands still on this edge of forest rim, except for the constant changing drama of the seasons....
| | | |
| --- | --- | --- |
| | Additions to Southern California Equestrian Directory | |