---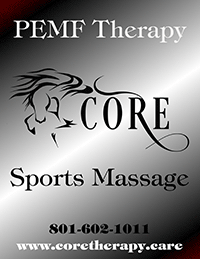 CORE Therapy provides top of the line PEMF treatments and Sports Massage to help your equine companion feel and perform their best!
Phone: 801-602-1011
www.coretherapy.care
---
Experienced rider able to ride both western and english. Over 10+ years of experience. Looking for any stables that need help as far as exercising horses or maintaining them. Minimal experience with grooming but more than happy to learn. In the southbay area and I have my own transportation. Please feel free to contact me with any opportunities or clarification.
Phone: 424-215-3921
Email: dominiquevp97@yahoo.com
10/28
---
Hello, my name is Andrea and I have 17 years of riding experience, 5 years of teaching experience and 4 years barn management experience. I am looking for a teaching, training and/or riding job in San Diego and surrounding areas. I am currently located in San Jose, but am looking to move to the San Diego area and would like to secure a job. I can provide my resume and riding videos.
Thank you! Email: alkequine@gmail.com
10/24
---
Experienced dressage rider looking for a full or part time riding position. I have more than a decade of experience in riding Dressage up to GP level. Looking in the San Diego, Orange County, Inland Empire areas for a show or consignment barn in need of a rider or lesson instructor. Email: nwflkm1@gmail.com
10/18
---
Experienced hunter/jumper and equitation rider in the Los Angeles area looking for work exercising and/or grooming horses. I grew up riding in the Midwest and did the East Coast and Palm Beach circuits both as a competitor and as a horse show assistant (grooming and riding clients' horses). Would love to help you and/or your clients! Los Angeles and surrounding areas preferred
Phone: 248 520 0054
Email: sasha.higgins@gmail.com
10/4
---
Experienced rider in english and western looking for horse work. I exercise/train/groom etc. I charge $30/hr and am available on week day evenings and weekends. I have great references and I am competent in many disciplines (show jumping, XC, gymkhana, mounted games, trails, polo etc). I also enjoy young horses/trouble horses. Thank you!
Email: jodi.tkd@hotmail.com
9/20

---
Experienced rider looking for a full or part time riding position. I have more than a decade of experience in English riding, but am also familiar with Western riding and tack. I can also help clean stalls, tack, groom, and generally help out around the barn. Am also comfortable giving beginner lessons. Maybe you just need your horse to get out a few more days a week! I'm your gal!
Phone: 970 765 4782
Email: marissa.isgreen@gmail.com
9/20
---
Looking for a part time instructor position. Experience teaching Hunter/Jumper, equitation, western pleasure, vaulting, groundwork and some reining. Looking for a place I can continue to grow with. I live in Huntington Beach and attend school in Fullerton (Psychology undergrad), so I'd be willing to drive there and surrounding areas in OC. Email arenamadison@yahoo.com for more info
8/21
---
Recent College Grad looking for FULL-TIME groom/ ranch hand position, or paid internship. 10+ years of English riding, additional experience as a trail guide and excellent interpersonal skills. I work at LA Fitness and have opened the gym for 6 years, so my shift begins at 4:30am. I am the definition of reliable. I have a huge passion for horses and will soon be receiving my Equissage certification.
Phone: 909 730 6225
Email: Amberelysebowers@gmail.com
8/20
---
Need help w/ taking care of your horse(s)? I'm available to volunteer in the Trabuco, Silverado, and Modjeska Canyon area. Grooming, riding, doing groundwork, and helping out w/ the day-to-day tasks are my specialties. Phone: 949 422-8282
8/19
---
Experienced natural horseman available for stall maintenance, groundwork, exercise, turn-outs etc. Not afraid to get my hands dirty and help the owner with what I've been blessed to learn from natural horseman like Pat Parelli, Buck Brannaman, and Carson James. Available for OPA, San Juan Capistrano, or Trabuco Canyon.
Phone: 949 981 9336
Email: mustangmikeshats@gmail.com
8/2
---
My name is Jennie Fletcher. I rode under Carol Arminski at Bradbury Hills Riding Cub aka. Chicago Park Riding Club. Owned and operated by my Grandmother Loretta Aminski.After Carol Retired from trainer i took over running show stable several years.Until I focused on raising my special needs son the last ten years. totally available and would do anything get in shape work for free Spurson68@yahoo.com
7/17
---
Don't have the time to keep your horse happy/in shape? Stalls not getting cleaned enough? I'm an experienced horsewoman, I work from home so have flexible hours, looking for an opportunity to get back in the saddle a day or 2 a week and wouldn't mind the workout of helping out around the barn. Or, if you have ranch work handled, lease? Call Christine @ 949-677-0309. Thank you!
7/17
---
I am a lifelong horse lover. I competed in 4 H, FFA, gymkhana, and rode on a drill team for 7 years. I've been a Rodeo Queen and princess, carried sponsor flags at local rodeos. I have spent the last 2 Summers giving western and english lessons in at a camp near Santa Cruz. I'm able to give lessons, clean stalls, medicine, and anything else that is needed regarding horses. Thanks! (805) 748-0279
7/9
---
Looking in the San Diego, Orange County, Inland Empire areas for a hunter/jumper show or consignment barn in need of a rider, groom, or lesson program instructor. I'm new to the area and looking to help grow an existing program or build a new program from the ground up. Willing to travel and show. Experience in the 'A' Circuit.
Phone: 425 241 1591
Email: tawnymichelle@gmail.com
7/8
---
I recently moved to Los Angeles from Colorado. The last 2 years I have been the barn manager for Warren Performance Horse. I am looking for a position somewhat close to LA but I am flexible on location. I am confident in my abilities with horses. If you have any openings, please reach out to me via phone or email.
stephenhoffman962@gmail.com
Phone: 308 737 7189
6/25
---
Looking for part-time/weekend work as a show groom or just helping out at the barn (mucking, exercise riding, etc.) I have about two years experience, English and Western, looking to learn more and possibly make some money on the side. North San Diego county
Phone: 757 752 3602
Email: Bmoke001@odu.edu
6/25
---
I have recently relocated to Irvine from TX & am searching for employment. I obtained my Preliminary Instructor Certification from the British Horse Society in 1995, & a Bachelor's degree in Animal Science with an equine emphasis in 2002. I have competed in various disciplines both English & Western and have taught and trained various levels, specializing in beginners. Lindsay 903-733-6128
6/18
---
Looking to exercise a horse and get back in the saddle in Southern Orange County. I currently live in Aliso Viejo. I am an intermediate English rider. I grew up riding until I was a teen, then volunteered with a horse rescue back in Canada. Interested in a trade or helping someone who's horse needs a little extra love, care, grooming and exercise. Feel free to call or text me at 562.454.7909.
6/11
---
Hi all! My name is Lexi and I am looking to exercise horses or be a student worker in exchange for lessons this summer. I am 19 years old live in northern San Diego. I have been riding for nearly 9 years now; for the past three years, typically only during the summer months. My riding experience includes hunter/jumper, eventing and trail riding.
Here's my contact info:
alexismichelson@gmail.com
6/11
---
Hello! Experienced H/J / Equitation rider seeking part time employment as an exercise rider / hacking. Soft hand, solid seat, confident rider. Can also teach, turnout, feed. Prefer to stay in areas of Vista, San Marcos, Rancho Sante Fe, Del Mar, but open to South County as well. Ideally would like a live / work situation onsite but open to different scenarios. I'm mature, responsible, kind.
Phone: 949 322 5044
Email: joanna.morehead@gmail.com
6/5

---
---
---
---
You Can Post a FREE Classified Ad Here!
We Accept: