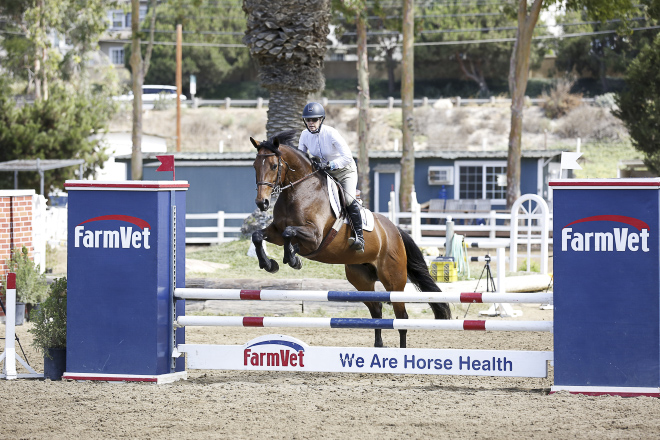 Barn help needed:
Duties include feeding, stall and pasture cleaning for 10 horses - show and former show horses possible organizing, grooming and handling.
Hours are 7-10 am, noon to feed lunch and 3-4pm
A close location helps. We are in North Escondido
Must speak reasonable english, be punctual and reliable, honest and hard working. Physically fit and able to lift hay bales too. Pay is commensurate with experience. Three days available per week.
Send email to jmclaug@me.com or text or call 760 936 2175
---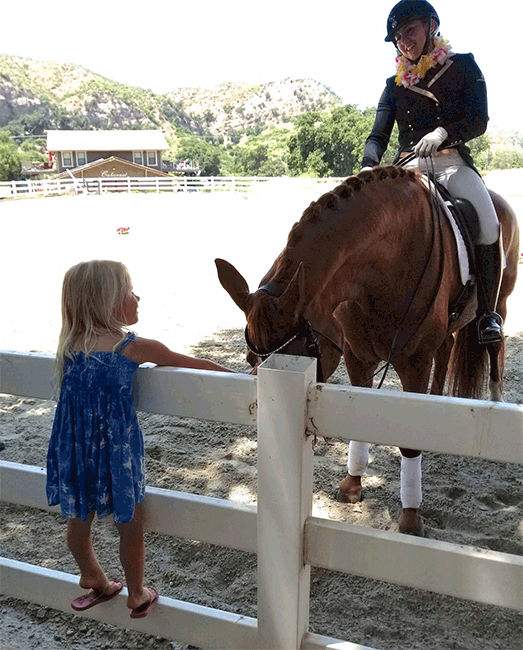 Golden West Riding Club is currently looking to add a qualified riding instructor to our team!
Job description:
Teach beginner - intermediate lessons. Must have experience in hunter/jumpers and an interest and appreciation for dressage. Must be personable, enjoy working with children (and their parents) and reliable. Looking to hire part time immediately that could grow into a full time position. Pay depends on experience.
Please contact or send resume to Carol Robertson 714-922-5553 or email carol@crdressage.com or Jenna Coonen 818 590-6330
---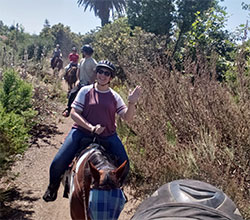 I am looking for wranglers for my rental string. We are located in Huntington Beach a mile from the ocean at the Huntington Central Park Equestrian Center. This is a part time position with opportunity for growth. Wranglers need to have have great attitudes, be reliable, and have a history of riding in their past. Looking for head wranglers with training capabilities as well. We see hiring immediately!
Phone: 818 590 6330
Email: jenna.coonen@gmail.com
---
Full time Job opening for a hard-working horse person with grooming experience that has tremendous opportunity for advancement. Good social acumen and communication skills a must to work at exclusive private riding club in Los Angeles area. Applicant must be able to make this job their priority. This is a position for a serious horse person who wants to learn the horse business. Applicant must be familiar with both English and western tack and have a desire to learn from a successful trainer of 40 years. This is an opportunity to work at a beautiful facility, gain extensive experience in veterinary care, and learn a riding and training system that applies to all disciplines. Starting pay is commensurate with experience. Non-smoker preferred.
Phone: 626 993 4014
Email: Charni@charnilewis.com
URL: www.charnilewis.com

---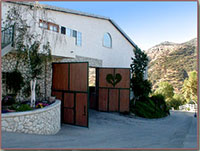 Full time position available for experienced ranch hand position. Cleaning, feeding, turn out 5 days per week. Male preferred. Living on-site available for right applicant. Must know how to handle horses and be reliable. Thousand Oaks, CA
Email: Lionheartranch@gmail.com
---
Rigdon and Blake Dressage Stables is looking to hire and additional groom for five days a week from 6:30-1:00 and one weekend day from 7-3! We are open to working students as well! If you are interested please call for details!
Phone: 310 435 2204
9/3
---
Looking for a Dressage rider for consistent catch riding. Must be good with rehab horses, young horses, and naughty horses. Minimum 3rd level skills. Pay dependent on abilities. Preferably 4-5 afternoons per week. Coto De Caza area. Email: contact@shaynedante.com
8/29
---
Looking for someone who has horse experience to feed and clean 3 horses on Saturday and Sunday's in Fullerton. Person needs to have reliable transportation and willing to commit every weekend. Job would take about 30-40 minutes each day. Willing to exchange lessons for work. For pay and other information please email at kellysaldivarperformancehorses@gmail.com
8/28
---
Breeding farm in search of a hard working, knowledgeable horse person to assist with barn chores and daily horse care. Housing provided with internet and utilities paid. Must have good references!
Phone: 909 532 4822
Email: carlyedmondson86@gmail.com
8/26
---
Seeking Barn Helpers for therapeutic horse facility to do mucking & feeding. $200 per month or willing to trade riding lessons for consistent reliable work. No experience necessary, training is provided. Work M-F, AM shift for 1 hour, anytime between 6:00am-10:00am. Must have own reliable transportation. Located in East County San Diego.
Call or text 619-828-5383
8/22
---
Part-time assistant wanted for animal welfare non-profit. Hours and days flexible, in showroom/office Newport Beach. We sell antiques, art and objects to fundraise for educational programs and support other animal welfare agencies. Salary is $12/hr to start with unlimited growth potential. For more information please call Marilyn at Noah animal welfare 949-294-3956
8/14
---
Trail Guide / Ranch Hand needed must be able to work long hard hours. Experienced Horsemanship Necessary to keep 5 first time and beginning riders safe on trail. All aspects of ranch care including feeding watering stalls yard work and light maintenance required. Will need to be local to Norco as sometimes short hours split shifts and last min rides. Pays min to start then $12 plus Great Tips ! Please visit our web site before you call or text Sonja 909-645-1270
8/2
---
Stall cleaner/feeding and general horse care position available at Oakridge farm escondido , Knowledge of young horse care and handling a plus. apartment available for partial or full time work exchange. Hours 6:30am -4pm or if you are available to feed and clean at 6am and 4pm wlll work. Please call 619-813-4882. Position available immediately.
8/2

---
Dressage groom/asst trainer pos. available on beautiful private ranch locate in escondido.6:30am til 12pm plus shows.Must have experience. If you are responsible, hard working and horse loving, a great opportunity to possibly live on the ranch and bring your own horse for training in exchange for your work. ride grand prix horse and train youngsters MUST have references. 619 813 4882
8/2
---
WANTED: Experienced jumper rider in Escondido area. Non pay but training provided and opportunity for riding in paid shows. Own 5 jumpers jumping from 1m to 1m30. Should be available 2-3 times per week. Most riding in evenings and weekends. Contact:
tomhufford@aol.com
8/2
---
Dressage Barn in San Marcos looking for part time groom available during the week. Paid hourly needed to start ASAP. Message for more info trianasdressage@gmail.com
7/23
---
Join our beautiful ranch! EXPERIENCED Western Trained Trail Guide assistant position, for a true horse person part time 30 hours+ work leading trail rides, grooming, etc. at ranch in the Malibu area,independent contractor status, need own medical insurance, we do background check. Great pay. email lahorses1@gmail.com OR CALL Ms. Rose (818) 591-2032 for interview.
7/9
---
Looking for a working student for 3 day eventing barn in Riverside, Calif. Work in an exchange for lessons. Work includes, tacking/untacking, bathing, setting fences, some saddle time, minimal stall cleaning. Hours from 7:30 am - 1 pm. Call Lindsey at 9516407781 or email at linddseybbelectric@att.net
7/8
---
Stall Cleaner, feeder & general maintenance worker needed for a horse facility in Rancho Palos Verdes. 6 days/week 7-4pm. Horse experience a bonus but we will train the right person. Room available with community kitchen. Contact Laura at pbrc1@verizon.net or 310-377-
3507
7/5
---
WANTED: Experienced jumper rider for 5 horses at private barn in Escondido. Non pay, but opportunity for showing with expenses paid. Should have experience showing jumpers at C shows at minimum of 3 foot or equivalent. Advanced training provided. 2-3 times a week minimum, mostly afternoons and evenings during summer. Weekends and other times flexible. Tom: tomhufford@aol.com
7/5
---
Looking for a professional groom.
Only four horses, braiding skills necessary, detail oriented and organized.
No accommodation available. Santa Rosa Valley/ Camarillo
6 days - 6:30am - 12:30pm
Could have more work for you if it's a good fit
Text : 917-370-2733
7/1
---
Dressage barn in San Marcos is searching for a motivated person to work full time Monday to Friday typically hours will be between 7:00 3:00. This is a paid grooming position. Duties include but are not limited to; turning horses in and out , grooming, tacking/untacking, cleaning tack and handling young horses. Pay is hourly wage depends on experience and ability. trianasdressage@gmail.com
6/27
---
Breeding facility looking for part time help. Barn chores, feeding, turning out, etc. Guest house as part of compensation. Call/text 909-532-4822
6/17
---
GROOM WANTED:
Seeking full-time live-out horse groom for a beautiful ranch in Thousand Oaks. Must be a hard worker who know everything about horses and works well with others. Experience with other a plus. Full compensation package including competitive salary, health benefits, vacation time, sick time, and paid holiday's. Live-in a possibility in the future for the right candidate.
Email: jdrinbh@hotmail.com
6/7
---
Southern California Hunter Jumper Trainer needs help at Blenheim June Classic III June 18-23 with coordinating schedule, trips to show office and warmup rides as needed. Approximately 8 hours per day. Must be experienced with horse shows.
Please contact horseshowassistant@gmail.com or text 805-698-1000..
6/7
---
Groom and Stall cleaner/feeder positions available at Oakridge Farm. East Rancho Santa Fe, possible housing available. MUST have experience and have worked as a groom and/or stall cleaner. Groom, PT -6 half days per week and some show weekends. Stall cleaner/feeder full time 6 days/week. Please call 619-813-4882
6/3
---
Kennolyn Camps in Soquel, CA is seeking Equestrian Counselors for summer 2019. This seasonal position offers work from June 12th, 2019 - August 18th, 2019. This is a paid, live-in position. Meals and housing are provided. We offer group lessons every day as well as trail rides, vaulting lessons, and horse care classes. Email program@kennolyn.com for more information.
5/31

---
Working Student position in los angeles. trade your work hours for lessons or training in a variety of disciplines, or, horse boarding, horse leasing, or saddle time. no experience needed, we will train any dependable, trustworthy horse lover. flexible hours. email for more info.
ninateaszer@gmail.com
5/22
---
Looking for working student/groom for Dressage barn in San Marcos California. Monday through Friday typically 8 AM to three. Starting the end of July e-mail for more information
Email: Trianasdressage@gmail.com
5/16
---
Full service equestrian center is seeking an experienced dressage trainer/instructor with established clientele to provide lessons for all age groups and experience levels. Contact Nicole at 619 971-3751 or ride@powayequestriancenter.com
5/15
---
Stall Cleaner, feeder, ranch work needed for a dressage ranch in Escondido. 7-4pm, Must be team player, hard worker, able to lift 50lb bags and do physical work, have experience with horses, and be respectful. Possibility to live on property in small studio apartment for 1 person. Please send experience and/or references and phone number to Jacqui@OakridgeFarmRSF.com.
5/14
---
Full time position available for experienced ranch hand position. Cleaning, feeding, turn out 5 days per week. Male preferred. Living on-site available for right applicant. Must know how to handle horses and be reliable. Thousand Oaks, CA
Email: Lionheartranch@gmail.com
5/14
---
Trail guide assistant, immediate opening WESTERN trained individual, to perform tasks not limited to: Assist our lead trail guides with grooming and exercising horses and acting as back up trail guide when needed. Clean stalls, etc.
MUST be in perfect physical AND mental health. Independent contractor basis.
e-mail lahorses1@gmail.com or call Ms. Rose 818 591-2032 this is land line no text!!
5/6
---
Looking for a grooming or working student position in or around Nuevo. Barn chores, afternoon feeding, mucking stalls and hand walking my horse. I can provide a live/in/room situation for the right person
email Tracy at t.m.interiorsbh@gmail.com
5/3
---
Groom wanted:
Looking for a professional, hard working groom in Camarillo.
Must have experience, great time management skills, and be able to communicate well in English.
Tasks include grooming, tacking up, untacking, cooling down, spraying down, barn tidying, skipping out, all tack cleaning etc.
Please text 415-640-7604 for details
5/2
---
Job Opening : Overnight care of show horses on the H/J circuit in CA. Duties include careful monitoring for safety & comfort, and providing critical care when needed. Full or part time position available. Hours are 9:00 PM - 6:00 AM. Show facilities in Del Mar, SJC, & Temecula. Candidate must have horse handling experience. Email: iwatchm@aol.com for application.
CaliforniaNightWatch.com.
4/26
---
---
---
---