PART TIME WORKING STUDENT
Responsibilities: Turn out horses, grooming, feeding, some riding and help trainer.
Compensation: Horse care and groom in exchange for riding lessons. Horse Included.
More Info on:
https://thepaddockridingclub.com/the-paddock-riding-club-jobs#TRAINERJOBS
210719
---
TRAIL GUIDE/ranch hand position. Part time. Minimum wage + tips. 3 to 4 days a week REQUIRED. Minimum 5 years experience as trail guide with a horse rental ranch desired. Fit individuals only as job demands lots of physical work. Able to lift 80 lbs several times a day. Independent contractor. MUST live close to stables in the Valley or Santa Monica area. Call (818) 225-7433. 18 years or older. Back ground check conducted.
https://www.losangeleshorsebackriding.com/
210501
---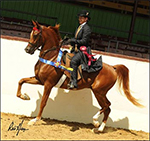 Thriving riding academy/lesson business in Chino - currently giving 60 lessons/week- is looking for a "part-time could be full time" riding instructor. I am searching for a qualified candidate that can help take over the reins of my business so I can focus on setting up other business's. We focus on correct basics of mostly English and some Western riding. 760-443-3651
---
Immediate opening for a Riding Instructor- Part time to start. Some experience helpful. Teaching beginners to advanced in several disciplines. Please contact Tina at Weber Training Stables.com
2100719
---
Barn help needed for my 9 year old, well-trained, blue-ribbon winner Tennessee Walking gelding. He's a real sweetheart and Mr. Personality. My arthritis is getting worse, and I need help with grooming, tacking, riding and turn outs. Part-time/Paid Thank you for your time. hound.dog.mominator@gmail.com or 818 642 0388. Debra
2100712
---
PAID POSITION: ISO someone to feed and clean 2x/day at a private 3 stall barn in Nellie Gail M-F. Duties include filling hay nets/feeders and thoroughly cleaning 3 12x24 stalls. Ideal feed times are between 6-8am and 4-6pm. Looking for someone to start September 1st 2021 but we are flexible. Please text 320 980 5232 of interested.
2100709
---
Grooming position available part time 5 days per week in Rancho Santa Fe. Candidate will be in charge of all grooming aspects for upper level dressage horses. Duties include but not limited to: tack up, turnouts, bathing, making grain bags, lunging, etc. text 949-274-6132
2100707
---
Full-time Equine Ambulatory Technician position available. Based in Thousand Oaks, CA. Must have a minimum of 5 years intensive horse-handling skills, and be able to lift up to 50 lbs without assistance. Family and team-orientated progressive practice dedicated to the highest caliber equine medicine and client service. Please send resume to nancy@conejoequine.com.
210614
---
ISO working student opportunity for a jumper barn. Located in Los Angeles, I'm an adult amateur with 4 years of riding/horse experience and very willing to learn. Available on the early weekday mornings and on the weekends due to my full time job. Please text me at 978 303-7844.
210614
---
Looking for someone to blanket 7 days a week and feed Sunday lunches for a dressage barn. We are located in Trabuco Canyon. Please email ambersmigeldressage@gmail.com if interested.
210607
---
Paradise Dreams Animal Sanctuary needs help cleaning out and feeding in the mornings. Normally 7am-11am with some flexibility if necessary. We are looking for someone responsible and trustworthy who is comfortable around all types of horses and animals.
Opportunity for more hours. Must be legally allowed to work in the US. Please text 858-408-5807
210527
---
Must have previous Groom experience.
Daily duties: feeding, mucking, grooming, restocking hay and shavings, administering medication etc
Schedule is 6 day's, 48 hour's per week, 7a-3.30p with overtime on approval. Day OFF would be during the week, likely Monday or Friday.
Must have the legal right to live and work in the United States and successfully complete a background check. Email: jdrinbh@hotmail.com
210518

---
Looking for assistant trainer in Southern California. Position will have to groom , muck stalls and ride green horses. We are opening a equine swimming pool as well. Hours are flexible. Have several horses that we are getting ready for futurities this fall. Experience in barrel racing and working with young horses. Email me at legacyequine2020@gmail.com or call 760 970 3206.
210507
---
Seeking Barn Helper for therapeutic horse facility to do mucking & feeding. $250 per month. No experience necessary, training is provided. Work M-F, AM shift for about 1 hour, anytime between 6:30am-9:30am. Must have own reliable transportation. Prefer East County San Diego resident. Call or text 619-828-5383
210505
---
Volunteer barn helpers needed. Therapeutic horse facility seeking volunteers to spend time with horses (groom, feed lunch / snacks, bathe, exercise). Flexible hours between 8:00am-7:0pm. No experience, will train. Perks for consistent reliable help. Must have own reliable transportation. Prefer East County Resident. Call or text 619-828-5383
210505
---
ISO an Equine Facility Supervisor to oversee all aspects of racehorse training facilities in addition to daily equine care duties (incl feeding & mucking). Must have prior experience with equine first aid, horse management and facilities maintenance. Bilingual (English & Spanish) is a must.
$18 per hour (48 hours per week), paid fortnightly. Live out. Solvang, CA. Email for further info.
Phone: 805 325 8414
Email: instructor@montyroberts.com
210503
---
Therapeutic horse facility looking for people to be Facilitators with clients & horses for a variety of Equine Assisted programs. Some experience working in mental health field and/or related coursework & horse experience preferred. Will train those willing to be committed. Work Mon-Sat flexible part-time hours. Pay starts at $15. Must have own reliable transportation. Call or text 619-828-5383
210422
---
WANTED!
Are you hard working? Dedicated to the equestrian industry? Creative, love teaching, and working with clients?
Successful and thriving business in English and western is looking for you.
Please contact Nicole 619-857-0942.
210407
---
Full time groom position available. 6 days a week Monday through Saturday. Prestigious Dressage barn needs motivated experienced person to help care for show horses.
Competitive salary
Contact us if interested
Phone: 858 337 2863
Email: 8462tinac@gmail.com
210331
---
Grooming position available in Encinitas. 6 days a week grooming feeding care for competition Dressage horses. $3000/month. Must have prior grooming experience. Encinitas area.
Phone: 310 435 2204
Email: dblakecd@aol.com
210331
---
Grooming position available in Encinitas Dressage Stable. 6 days a week feeding grooming tacking dressage horses. $3000/month. Must have prior experience.
Phone: 310 435 2204
Email: dblakecd@aol.com
210329
---
---
---
---