Sponsors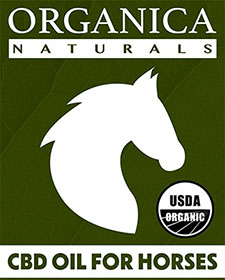 Organica Naturals
CBD Oil for Horses
Straight from the horse's mouth, the Organica Naturals brand is the best CBD oil for horses anywhere!
Your equine companions will love our cannabis — and so will you — because it's grown right here in the USA and certified organic by the USDA. Organica Naturals CBD is made from whole-plant cannabis that's painstakingly harvested by hand and flash-frozen to protect the integrity of the medicines inside. We use subzero extraction to get a virtually perfect phytochemical copy of the plant in every single drop, so your equine beauty gets everything nature intended.
CBD oil for horses from Organica Naturals is bursting with essential cannabinoids, like Cannabinol (CBN), Cannabigerol (CBG), and Cannabichromene (CBC). Cannabinoids work together to boost the effectiveness of our full spectrum horse CBD through a natural phenomenon that scientists call the "entourage effect." The more cannabinoids there are in your horse hemp oil, the better it works.
Best of all, you can rest assured Organica Naturals CBD oil for horses is always 100% free from pesticides, harmful chemicals, and heavy metals. Every batch is manufactured in an FDA-registered, U.S. Hemp Authority Certified and Non-GMO Project verified manufacturing facility and always 100% USDA Organic Certified, of course.

Discover the benefits of Organica Naturals Equine CBD today!

Email: questions@organicanaturals.com
https://www.organicanaturals.com/cbd-oil-for-horses/
---
HLB Equine Dentistry ~ Heather Bo
Qualified Equine Dentist / Nor Cal / Performance Dentistry
Serving the state of California. 415-265-4379
---
Herbasprin
Equine Nutritional Supplements
P.O. Box 800, Pescadero, CA 94060. 650-879-9001
---
Equine Athletes
Robin Hambey, Equine Sports Massage
636 Hall Road, Watsonville, CA 95076. 408-804-3412
---
Wine Country Equine Reproductive Services, LLC
Equine Reproduction
4487 Occidental Road, Santa Rosa, CA 95401. 707-526-6403
---
Pacific International Genetics
Boarding / Breeder / Veterinary Reproduction Services
25725 - 68th Avenue, Los Molinos, CA 96055. 530-529-0703
---
Dixon Animal Chiropractic
Dr. Troy Stevens - Equine Chriopractor
1285 Stratford Ave. Ste. I, Dixon, CA 95620. 707-330-2311
---
Central Valley Transcription
Veterinary Specialty Digital Dictation and Transcription Service
7535 Ironwood Court, Dublin, CA 94568. 925-236-1836
---
Equine CranioSacral Workshops and Consultations
Craniosacral Work with Horses
PO Box 696, Aptos, CA 95001. 831-642-2210
---
Natural Natives
Herbal Body Care / Horse / Rider
20261 Big Canyon Road, Middletown, CA 95461. 707-355-0442
---
Sonoma Equine Bodyworks - Karen Harding CMT, AEBW
Craniosacral Therapy / Reiki / Sports Massage / 12 Years Experience
San Francisco, CA. 323-828-6123
---
Spirit of Equus Rescue
Rescue / Rehabilitation / Adoption / Alternative & Healthcare Classes / Equine Bodywork / Boarding
21762 Wren St, Apple Valley, CA 92308. Phone 760-247-7348
---
The Yard Equine Center
Boarding / Lessons / Training / Breeder / Sales / Rehabilitation Retirement
270 Browns Valley Road, Paicines, CA 95043. 831-628-0801.
---
Equilibrate Equine Consulting
Independent Equine Nutrition Consultant / Balanced diets & custom supplements
2040 Bidwell Way, Sacramento, CA 95818.
---
Meditative Horsemanship
Lessons/ Training/ Health Care/ Rehabilitation/ Animal communication
Serving All of CA Phone: 408-550-6457
isisjade@gmail.com
---
Annadale Equine Center
Boarding, Health Care, Aqua Treadmill, Swimming Pool
17300 E Annadale Ave. Sanger CA 93657 Phone: 559 876 3700
annadaleequine@hotmail.com
www.annadaleequinecenter.com
---
Horse Plus Humane Society
Equine Rescue / Sales
P.O. Box 6108, Oroville, CA 95966. 530-284-6522 or 1-877-Luv-Horse
---
Paddington Station
Boarding/ Lessons/ Training/ Kids Camps/ English/ Dressage/ Eventing/ Horse Rescue
12400 Eel River Road Potter Valley CA 95469 Phone: 707-743-2541
hjohnson@pacific.net
---
The Second Race
Retired Race Horses / Thoroughbred / Quarter Horse
We are a national network for ex-race horses and those bred to race. We find homes/new careers for race horses off the track.
122-A E. Foothill Blvd # 300 Arcadia CA 91006 Phone: 626-733-3815
---
Krogh Ranch
Boarding / Health Care / After Vet Care
7615 State Hwy 140, Atwater, CA 95301 Phone: 209-357-8866
facebook.com/KroghRanch
kroghranch@aol.com
---
Valley Veterinary Service
All Equine Ambulatory Medicine / Lameness / General Health
16280 Blackie Rd., Salinas, CA 93907 Phone: 831-663-0303
---
You Can Post a FREE Business Listing Here!