Sponsors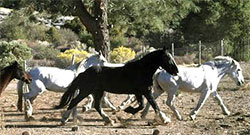 Running Horse Ranch
Cross Country Trail Rides in California for experienced, accomplished Riders
Advanced, and intermediate equestrians from all around the world can discover rugged mountain trails, trot through a windy desert, or we hook up the trailer to our truck and head over to the majestic ocean. Riders can choose from one of our stress relieving one day riding adventure tours, or buckle up and endeavor a week long journey, exploring different parts of the good old Wild West here in the USA!
All riding tours are customized to insure each rider an exceptional experience - no big groups. We take out only one party at a time, with exception if we truly know that both unknown parties can ride.
RHR locates in a remote, pristine, mountainous wilderness, in the Angeles National Forest. We are only a little bit more than one hour away from world famous Hollywood in Los Angels, California.
Lodging at Horse Ranch in Los Angeles, California, USA
Please call 818 437 3546 or
Email for your reservations:

https://trailridinglosangeles.com/
Point Reyes Country Inn & Stables
Bed & Breakfast
12050 Hwy 1, Point Reyes Station, CA 94956.
Phone: 415-663-9696
---
The Homestead
Cottages / Stalls
41110 Road 600, Ahwahnee, CA 93601.
Phone: 559-683-0495
---
The Oak Hill Ranch
Horse Bed & Breakfast / Horse Treks Around the World
3485 Porter Creek Rd, Sonoma, CA 95476.
Phone: 707-363-5330
---
Palos Verdes Acres
Boarding / 1/2 acre Paddocks / 1/2 Acre Grazing / Bed & Breakfast
Rancho Palos Verdes, CA 90275.
Phone: 310-514-8487
---
Bear River Ranch
Boarding / Lessons / Training / Sales / Veterinarian Clinic / Endurance / Western Pleasure / Dressage / Vacation Rental
21039 Brewer Road, Grass valley, CA 95949.
Phone: 530-268-3000
---
Villa Montagne Equestrian B & B
Bed, Breakfast, and Barn
28495 Big Basin Way, Boulder Creek, CA 95006
Phone: 307-413-1480
---
Enchanted April Farm Bed & Breakfast Inn
Boarding/ Horse Bed & Breakfast
5950 Salmon Falls Road Pilot Hill CA 95664
Phone: 916-939-9144
---
Arroyo Grande Horse B n B
Horse Bed and Breakfast / Over night stabling for travelers
454 Printz Rd. Arroyo Grande, CA 93420
Phone: 805-709-4641
---
The Ranch House
Bed & Breakfast. Overnight Horse Boarding.
41101 Lomar Circle, Temecula, CA 92592
Phone: 714-483-0997
---
The Ranch House
Overnight accommodations for horses and guests.
Pauba Road, Temecula, CA 92592
Phone: 714-913-3383
---