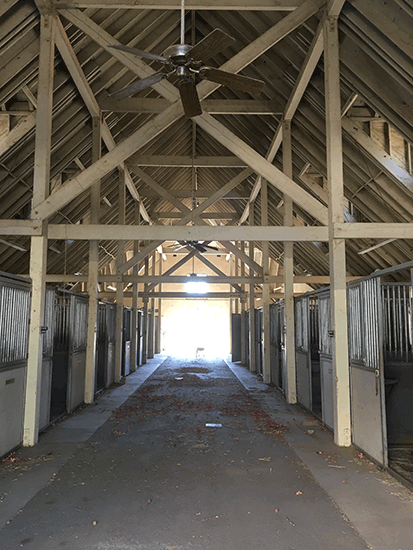 La Cresta Equestrian Facility available for lease - Facilities include large arena, round pen, patience post, 15 stall barn with hot and cold water, large tack room with extra cabinets for storage, hay and shavings storage, outside crosstie, office with full bathroom, and six turnouts/paddocks.
There's also a freshly remodeled 1800 sqft two bedroom three bathroom guest house attached to the barn which can be rented.
Call 951-834-2596 or
email ericleblanc21@gmail.com
---
Leasing Opportunity for Trainer With 20+ Horses
Newly refurbished 20 stall barn available for lease to trainer at quiet, professional Equestrian Center.
12"x12" enclosed box stalls with hinged top gate; additional stalls available Barn for lease includes 12"x24" finished office, five cross-ties, wash rack, three turnouts, washer/dryer hookup, fly system, and hay and shavings storage. Water and electricity provided.
Facility includes two arenas with fiber footing groomed and watered daily, additional sunpens/turnouts, round pen, and a longing area with sand footing, additional amenities. Facility is set in a private, gated community near Hidden Hills and Calabasas with 30 miles of equestrian trails.
Available July 1st, 2019.
Please contact Diane, gm@bellcanyon.com or 818 346-9879
https://www.bellcanyonequestriancenter.com/
---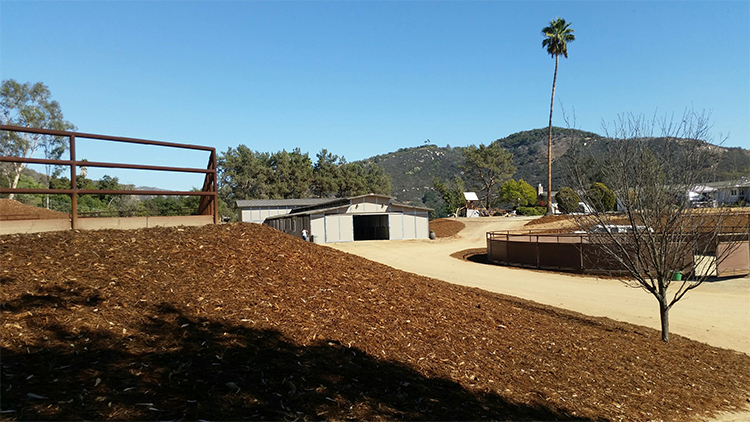 ISO Western trainer for our private horse property in San Marcos, CA. Facilities include large arena, round pen, patience post, 13 stall barn with 2 crossties with hot and cold water, trainer tack room, community tackroom, hay and shavings storage, 8 outside pens with tack boxes, outside crosstie and two turnouts. Owner handles board and hay and shavings ordering. There is also a house on the property which can be rented. Text 760.212.0217 or email kellied50@yahoo.com.
---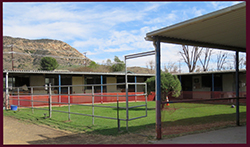 Leasing opportunity at a beautiful, peaceful family facility.

Other options available including: * On site studio with a kitchen, bathroom including all utilities in exchange for ranch duties and/or management or included in a lease agreement.
* Partial lease agremeent.
Must be a good fit for a family environment.

Amenities: Huge lighted arena, two round pens, hotwalker, 24 x 24 and 12 x 24 stalls, 3 wash racks, enclosed barn area with stalls, enclosed grazing area and 2 restrooms. Accessuble to the riverbed behind the ranch with many possibilities. Down the road with be a brand new 14 acre lakeside Equestrian Facility with a covered arena.
Take advantage of the opportunity!
For more information contact Lynda Schaefer - 619 701 8154
Selah Ranch, Lakeside, CA.
---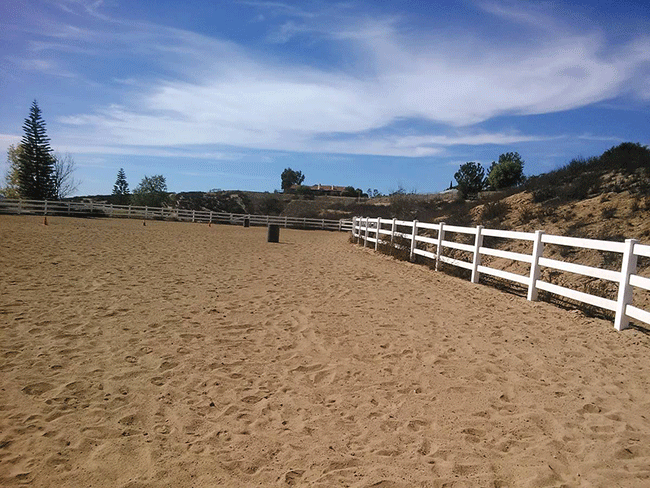 Barn for lease in Temecula Wine Country!!
12 plus stalls available, 4 in and out stalls, box stall, large covered pipe stalls, hay barn, tack room, wash racks, large show size arena, round pen and hot walker as well as rest room and plenty of trailer parking! Conveniently located off 15 freeway, 1 1/2 miles from Galway and Casners.
Quiet and private with excellent views, nestled in between 2 vineyards with nearby trails!
Please call Chris at 714-824-7283
---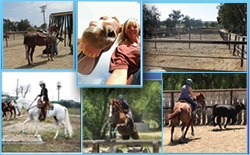 Boarding Facility in Oceanside has space available for Trainers with clientele.

Large Event Arena, 2nd Outdoor Arena, Indoor Arena, Awesome Footing! 25 Acres of Riding, Horse Playground, Equine Agility, Groomed Track.
We strive to be a Friendly, Multi Discipline Facility - English, Hunter/Jumper, Western, Cow Horse, Gymkhana, Horse Agility, Extreme Trail, etc..
We would like a western trainer and offer cows, sheep and goats to work. We have 24 x 24 paddocks as well as larger paddocks and pastures including private pastures. Full services, 3 arenas (2 outdoor and 1 indoor), tack storage, round pens, turnouts and Horse Agility/Obstacle Course with running track. In addition we just added sorting pens next to our livetock. 25 acres or riding on the property. Very fire resistant, surrounded by a golf course and irrigated farms close to the main roads. Ocean breezes further enhance this beautiful property! We have options for boarders for paddocks of various sizes, and pastures and full services by our conscientious and experienced staff.
Turnouts, blanketing, lunging, fly masks, bathing, and more...we offer it.
Phone Chris: 760-717-1101
Email: info@OceansideEquestrian.com
URL: http://www.oceansideequestrian.com
---
Home w/Horse facilities - 5 acres: Furnished private room & bath, horses ok (4 max), share utilities, 2 lg covered stalls, turn out, covered round pen, trails off property. E. Temecula Wine Country 1-person: 1500/mo, 2-person 2000/mo. Well-behaved dogs (2) & cat, ok. Room for 2 chickens. Not a party house. Chill, easy-going, peaceful, tranquil environment. No drugs/smoking/vaping, 25 mins to I-15.
310 702 6367 c/txt.
6/25
---
Private Ranch, east rancho Santa Fe available for dry stall/full service lease. Space for 30 plus horses. Beautiful ranch with dressage arena, jumping arena and round pen. Amazing fiber footing, auto-watered and dragged daily,In/out stalls and large corral turn outs,hot water wash racks,grazing pastures,several on property living quarters. Beautiful private setting. Open to options. 619-813-4882
6/7
---
Housing available on a private ranch in east Rancho Santa fe. Possible to exchange work for partial rent. Beautiful quiet ranch has studio apartment and one bedroom very nice trailer available for the right person. Work exchange may include gardening, grooming or ground maintenance Inquire 619-813-4882
6/7
---
In OPA. Large Stall, 16'x24', half covered includes tack room. 1/4 block from trails. Please call 714 538 4269
5/22
---
I am making my Orange County Property available to local individuals or traveling groups in search of a long or short term stall rental. Each 24'x16' half covered stall includes tack room, use of common turnout and wash rack. Renter is responsible for cost of daily cleaning/feeding labor and for cost of feed. Prime trail riding location. Please call Joyce for pricing. 714 538 4269
5/22
---
3bd, 2ba + studio room. Nice home with large, fenced backyard in quiet neighborhood in Leona Valley. Newly updated with new tile, paint, and hardwood floors throughout. Just over an acre of horse property w stalls, round pen, tack room, turnout, and hay barn. Trail access at the end of the street. Large master bedroom with walk-in closet. Credit check req. $2650/mo. Pets ok w deposit. Avail 6/15. Email: nmellis82@gmail.com
5/17
---
Trailer on private horse ranch for rent. Very nice One bedroom with garden, all utilities included, $1500/month. located in east Rancho Santa fe, space for your horses. Possible exchange for ranch work. NO smoking, Call 619-813-4882
5/14
---
Amazing over 1/2 Acre (22,849 Sq. Ft.) flat lot with 2 bedroom 2 bath house. It can be converted to a 3-bedroom house or it can be used individually as 2 separate 1 bedroom 1 bath house.
This Horse Property Located Perfectly in The Middle of Encino (18027 Topham St, Encino, CA 91316). Set up for 6 horses with a circle track room, hot walker, horse barn, feed shed...call Shalom at
323-632-8312
5/14
---
House share - own room & private bath, bring ur horses (4 max), share utilities, 5 acres, large stalls, turn out, round pen & endless trails, great riding community. Temecula Wine Country 1-person: 1400/mo. We have 2 rooms, if you want both (2 people max) 2600/mo. Can accommodate 4 horses. Well-behaved dogs (2) ok & cats (2), too. 25 mins to I-15. 310 702 6367 c/txt.
5/3
---
Horse riding and wide open spaces come with this 3 bedroom, 2 bath home. Everything is on solar and cistern. Large 2 car garage, iron pipe large corral near garage (hay storage). Cob cottage is great for writers space. Quiet and private yet close to I-40. 307-277.1235
4/8
---
---
---