---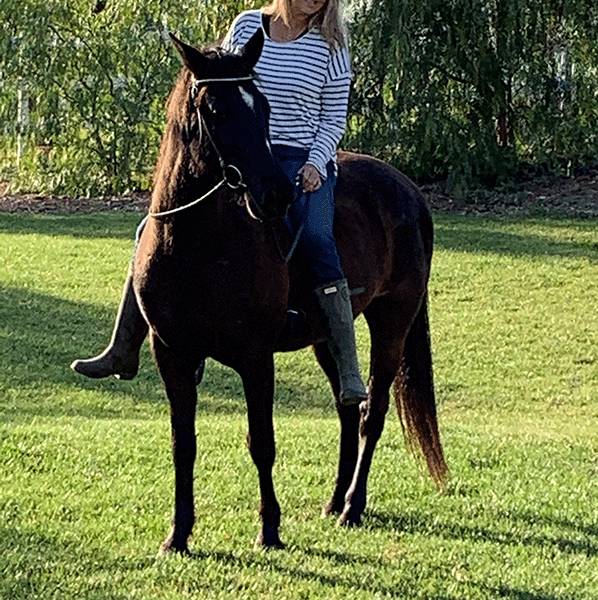 14.3 Azteca Gelding for Lease on site in Fallbrook.
He is a sweet guy and loves trail riding. He prefers an indirect rein if ridden English and loves to neck-rein. Can go bit less or on a snaffle. $400 per month which includes use of his saddle (western) and tack. We have a sanded arena and a small trail next to our property with direct access.

Phone: 949 697 1126
Email: natalie.ellender@yahoo.com
---
RWC Callaway's Connotation or Count
Offered for full or half on site lease(may consider an off site lease to the right person for a show season) Count is a 19 year old American Saddlebred. Count has shown in 3-gaited, park, show pleasure and gymkhana. Count would be best suited for a game amateur as he is very game when in the arena though he will adjust to suit his rider. He also trail rides.
Phone: 858 205 0495
Email: Celestestialfarmslesson@gmail.com
220113
---
I'm looking for someone to part lease my OTTB gelding, Dom. He's a six year old bay Thoroughbred gelding standing at 17.3 hands. He's green broke, but is having some trouble staying at the trot in the arena, as he has a LOT of go. He does perfect in a round pen, and you'll need to turn out and lunge him before riding. He's very sweet and a big people horse, but will require an advanced experienced rider as he is very testy.
I'm looking for someone to come out at least 1-3 times a week, 200/month located in Imperial Beach, tack included or you may bring your own. Unfortunately the facility does not allow jumping but there are trails and arenas.
Text: 619 920-5382
Email: kiana1901@icloud.com
211202
---
We got trail, hunter jumper and dressage horses for lease in Shadowhills CA, pony and warm bloods, lessons available in a fun loving environment
Phone: 310-359-3359
Email: Cmtrainingstables@gmail.com
211128
---
Lucy
17.0 hands TB Mare
On-site lease
Located in San Marcos
Beautiful brave and bold, Lucy was an upper level event horse that's now ready to show new rider the ropes of lower level eventing, dressage or jumping. She is super easy to work with, not mareish or spooky wants to please and the same every day. Does not buck rear or bolt. Has a great attitude and work ethic, sound with no issues or vices.
Phone: 530 219 2840
Email: cleilanin@gmail.com
211115
---
"Phoenix" is a calm, forgiving, and cuddly 6y/o 16.1h TB gelding. He's done camping trips, hunters, showjumping, and eventing with a focus in eventing. More of a kick ride but loves a challenge and loves to jump. At shows he will really open up and be a push button if asked to. Has been ridden by first time 4y/o's and advanced riders alike. He's easy to trailer, great on trails, and loves attention.
Available for onsite half lease in Ramona, but will consider full lease for the right fit. Lease will allow shows and other off site activities.
Phone: 916 459 8896
Email: angelatheequestrian1483@gmail.com
211103
---
Hey there! I am looking for an experienced and confident rider to do a half or possibly full lease on our very sweet horse. We are located near Rancho Bernardo. Please contact us for more info if you are interested!
Phone: 858 722 8233
Email: jessicabreaux@gmail.com
210905
---
---
---