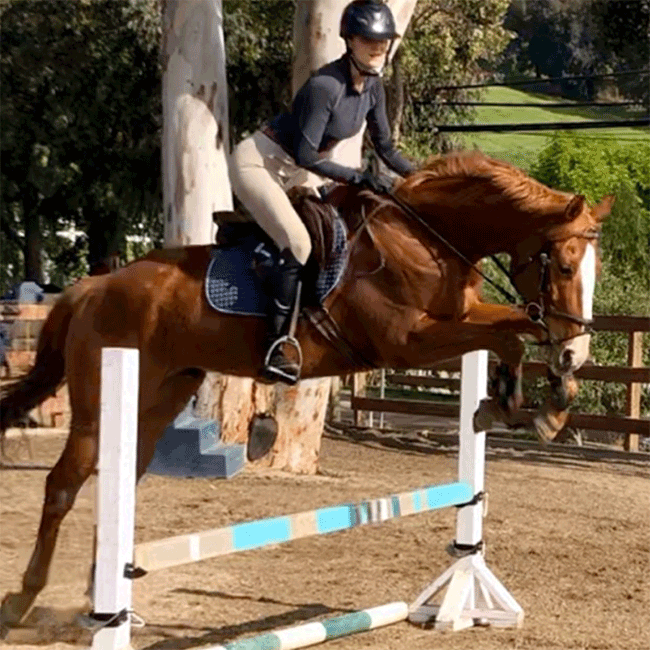 Fuego is a stunning 6 year old 16.3 hand chestnut gelding with movements to die for. He is in full training which means lessons are included in lease. He has a great temperament and a total love bug. He gives over 100% every time. Really wants to learn and make the rider happy. He does need a rider with show jumping experience as he is young and someone wanting to show as this flashy boy deserves to be in the show ring. Onsite half lease only.

Phone: 310 779 4542
Email: suzie@malibusurfsidebookkeeping.com
---
Lots of awesome horses and ponies available for half or full lease at CM Training Stables in Los Angeles suitable for all riding abilities!
*Charlie - 11 y/o Oldenburg Gelding. Show experience up to 3' Hunters and 1s Level Dressage
*Crescendo - 16 y/o Oldenburg Gelding. Auto lead changes, suitable for Hunters/Jumpers/Eq up to 2'6".
*X Man - 8 y/o TB gelding with show miles. Ideal for rider looking to compete in 2'3' to 3' Hunter/Jumper/Eq.
*Cashmere - 11 y/o 13.2H medium pony. Can take you from the lunge line to the 2'6".
*Cingston - 10 y/o 14H Hunter/Eq pony with miles up to 2'9.
*Champion - 9 y/o Oldenburg gelding with show miles up to 3' in Hunters/Jumpers/Eq.
Contact Carolin Malmkvist to lease your next 4 legged partner! (310) 359 - 3359 or Carolin@opuspics.com
https://www.cmtrainingstables.com/sales-leasing
1/7
---
Missy, a 6 year old Arabian/Welsh mare, is a beautiful and great gymkhana mare. She has been running 4/5D with two youth riders in local gymkhana shows. She needs an intermediate to advanced rider because she does have some go. She is available for partial onsite lease only. Possible opportunity to show. Located in Fullerton. Email kellysaldivarperformancehorses@gmail.com for more info.
2/14
---
Lovely Warmblood for Partial Lease 1-3 Days a week.
Jumps 2'6 with scope to go higher. Also Hacks out alone on the trail or would make a great dressage/flatwork horse.
Not suitable for beginner riders.
Phone: 310 866 3010
Email: kajgentry@gmail.com
2/4
---
Several horses available for onsite lease in Bonsall.
-Young but safe dressage, jumping, or eventing horse. Great for an intermediate or advanced rider interested in showing or moving up the levels. Fancy mover.
-OTTB for a very confident rider- BIG stride. Easygoing personality. Can do dressage or jumping with ease.
-11 year old TB- perfect hunter for walk trot to 2'9. Kids and adult friendly.
Email: animusequi@gmail.com
2/3
---
Sam is looking for a full or half lease at his home in San Marcos. He's beginner safe or will take an advanced intermediate. He's the perfect guy to learn to jump or continue your jumping education. Lessons with on site trainer included in lease price. Contact for more details.
Phone: 401 662 6376
Email: Wretchette@aol.com
1/27
---
All around/dressage horse available for half/full feed lease. Looking for someone interested in low level dressage or casual riding to lease my 16.3h 18 yr old OTTB gelding. Safe, sound, and sane he's perfectly suitable for a novice rider who wants to further their education with regular riding and lessons. Text or call 609-480-9228 for more information.
1/20
---
For half or full lease: Lovely, older paint mare at a small stables in Vista. Plenty of go and easy to ride and handle. Beginners ok in arena English or Western. Confident intermediate or advanced rider on trail, please. Call or text 760-214-9555
12/9
---
Intermediate horses part lease Imperial Beach ca 92154. 3 day a week lease with 1 day being a weekend day. $175 flat fee. Text 619 451 3738. 15.2 hand paint gelding. 14.2 hand palomino morgan. 14.2 hand chestnut quarter horse mare. Cute 14.1 bay arabian quarter horse mare. All tack supplied. Lots of trails can ride to the beach. Trainer charges $35 lesson. Lessons not required to lease but must be able to show suitable skills to ride chosen horse. Horse training and boarding also available. Please text or call 619 451 4738.
10/14
---
3 horses for lease
1. Jumper/warmblood intermediate rider or better. In your pocket and capable but big
2. All around western pleasure gelding/trail/safe safe safe going English too
3. OTTB that is sweet and willing. Safe but quick. Has jumped is a lot of fun
contact for more info (760) 4077636
10/7
---
If you would like to do lower level dressage or flat work, I have just the horse! Tall 18h puppy like horse. Looking for the right fit of rider for this horse to thrive. Onsite lease only.location is in Oceanside at a private peaceful facility. Any questions please feel free to email : Griffinequestriantraining@gmail.com
10/5
---
---
---