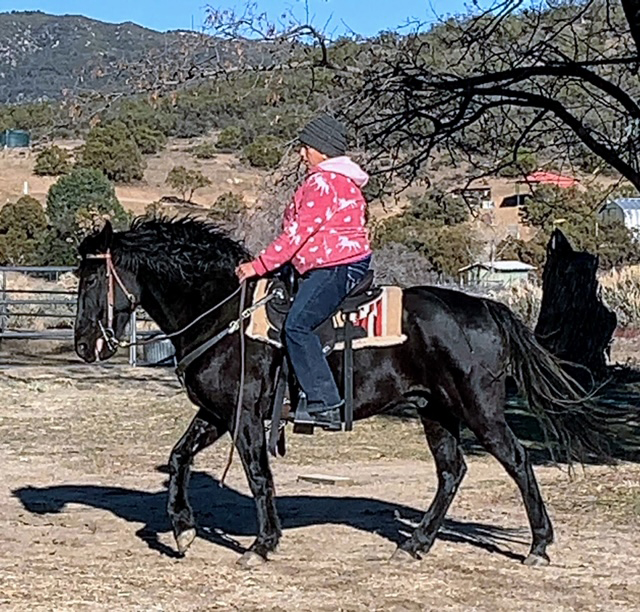 Bravo
Paso Fino 10 year old gelding ... Bravo loves the trails, goes anywhere you point him. Never needs a spur as he is a energetic forward moving guy. Neck reins, or direct reins, smooth and also canters, trailers and ties and been on overnight camp out trail rides. Bravo has a stout built and stands at 14.2 sturdy hands high plus a tad. Everyone thinks he's bigger and he has a friendly personality. Eager to please, easy to handle and fun to ride, barefooted with strong hooves. All shots, teeth and sheath cleaning current. No negative health history
Asking $3,500 for this friendly guy... Would be good for any level confident rider.
Visit www.gaitedhorsesrus.com
---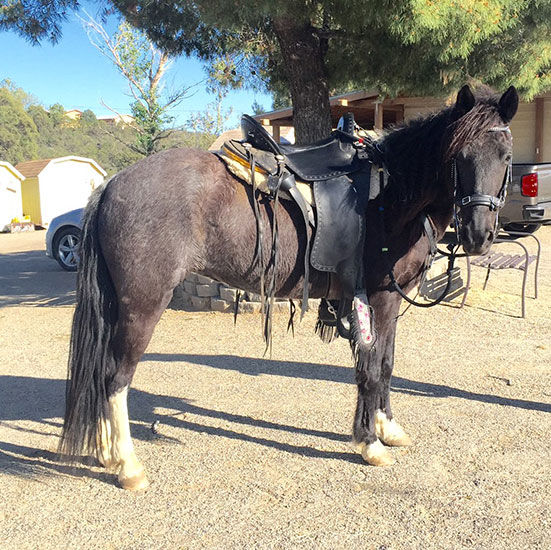 Riata is a 13.3 hh, 10 yr old Registered Spotted Saddle Horse. She is barefoot and sure footed over all terrain. She can be ridden in a hackamore or with a bit, or halter and lead rope. Riata has very comfortable gaits that can be enjoyed all day, and will walk slow as a pony or move out with a gaited group. Riata is beginner safe in any environment.
She has been trailered out to many areas alone to meet up with other horses and will go out in a new area without a problem. She can also be safely ridden alone and also trailers alone well. Riata is good in a group and is comfortable being last or first or in the middle. Riata crosses water and stands tied. She is UTD on feet, teeth and shots. Riata would be a perfect first horse or family horse for any smaller built person. She does anything you ask, and is a confidence builder and is just a fun and willing partner. She is broke and is not a spooky horse. Riata is not a Marish mare either. You can put her in a herd of geldings or mares. She is well built and with her colorful sabino markings is a eye catcher as well. All in all, Riata is the whole package and a sweetheart to be around.
Asking $7,800 for this well rounded mare....
Visit www.gaitedhorsesrus.com
---
Brillante is a 16.1 hand, 10-year old Andalusian/Pura Raza Espanola horse with super disposition and excellent conformation for dressage! He is a real eye-catcher with a heart of gold. He is perfect for the amateur wanting to show a high quality mount - he has successfully been shown 2nd level, and is schooling 3rd/4th level in dressage. He has a big teddy bear personality, is easy to handle, and well behaved for trailering and for farriers and veterinarians. Now a gelding, and he is suitable for a career as a competitive show horse. Strongly built, but elegant, Brillante (like his sire, Casuco II) is slowly turning silver white, with dapples, black mane and legs, and a thick black tail with silver ends. Brillante is rated for temperament of 2-3 among Andalusians.
Phone: 760 580 4537
Email: bioriderfittness@gmail.com
URL: https://bioriderdressage.com/index.php/2018/10/16/for-sale-brillante-rm/
---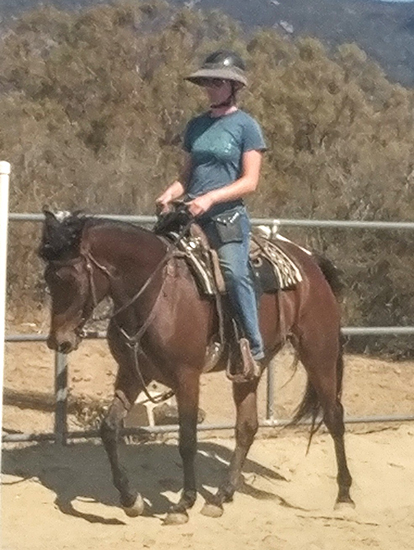 Harmony - Registered 4 y/o Missouri Fox Trotter Mare...
This mare is old-time bred Heritage type Fox Trotter, natural smooth easy Gaits, all she needs is time and miles. She will stay in training until sold. Harmony will walk slow with her quarter horse friends, or step right out in her wonderful flat walk to her smooth easy to ride fox trot. She also canter's and is learning her leads, side passes, trailers, ties,and has good manners. Loves the trails, and also works on the rail. Friendly and sweet... Shots, teeth and feet are current, and easy to handle for the vet or farrier or you !
Call for price or more pictures//videos ..
Visit www.gaitedhorsesrus.com
---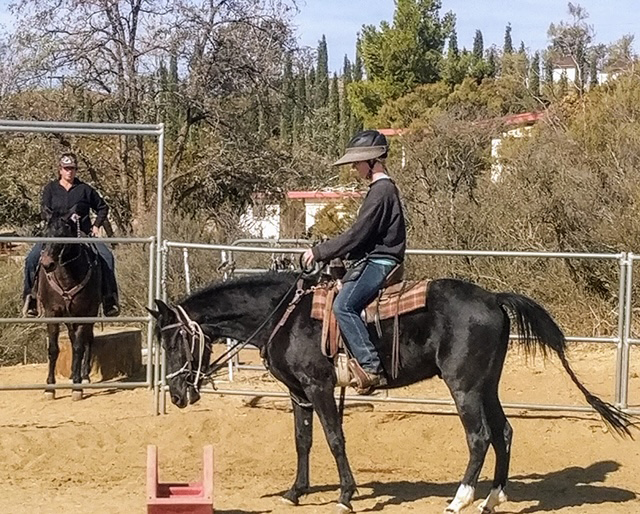 Anzio - Rocky Mountain Horse gelding ...
3 coming 4 year old has 2 months pro training. Going nice under saddle with wonderful natural super smooth gait, and is going to have a natural easy smooth canter. This is a nice, easy going, well mannered guy. Stands tied, trailers, ponies, would pack anything I can think off, willing and kind, would be good for anyone who wants to bring along a nice easy going gelding. Currently barefooted, all shots, teeth, sheath and worming are all up to date. Call and ask about this nice young guy!
Asking $3,500 now and price will be adjusted with more training....
Visit www.gaitedhorsesrus.com
---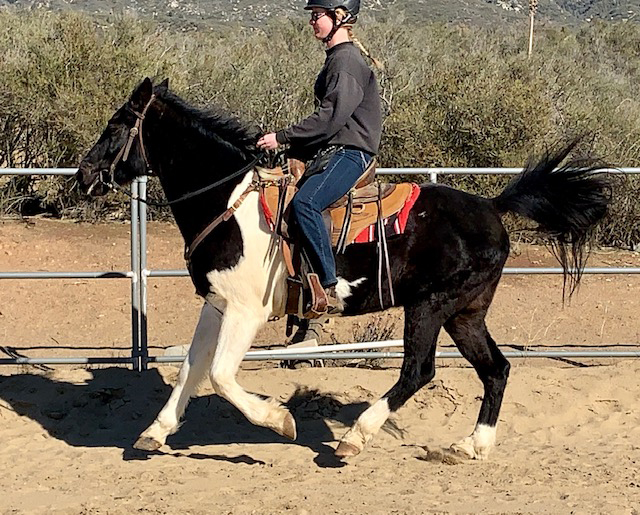 Spotted Saddle Horse - Riser is a 12 year old gelding and stands just under 14.3 hh. This nice friendly guy goes where you point him. He is always smooth in his gaits, will walk slow as a pony or keep up with any one in a groups in his flat walk or always so smooth gaits, also, goes out alone. He neck reins or direct reins, trailers alone or with others.. Not a Dominant horse at all with other horses, does well when kept alone or in a herd group. Riser has also gone camping and been on many all day rides.
Asking $3,000 for this friendly guy...
Visit www.gaitedhorsesrus.com
---
Triana's Dressage is proud to present High Meadow Dancer
This beautiful seven year old pure bred Lusitano Gelding has shown through first level , loves to work, has an exceptional uphill Canter, Tons of potential to move up the levels, super sound and is great on trail.
Good home a must
Located in The beautiful hills of San Marcos CA
Please PM for video and more information.
Email: Trianasdressage@gmail.com
2/28
---
ISO Athletic, Smooth, Gaited horse for sale, under the age of 10 years. Gelding preferred, would consider the right mare. Looking for sure-footed trail horse to be my next partner. I am a life long horse owner with over 40 years riding experience. Horse would have a forever home with me, can provide references. Please email description, photos and video to dboydgoodman@gmail.com
2/22
---
Eventing, Hunter Jumper, Dressage. Beautiful 5 year old Bay Gelding with 4 white socks & Star, 16.2 hands. In training and going nicely in arena at Walk, Trot & Canter. Started over fences & show great athletic ability.
Very friendly & smart. Has recently gone on trails. He will make for a flashy show horse. Best suited for non beginner for now.
Call 805-217-896
1/22
---
Triana's Dressage Training is happy to announce that we are now accepting Sales prospects for 2019! If you or someone you know has a horse that you need help selling, or have a young horse that needs some training before being sold, we can help! We have a limited number of new stalls available for sale horses, contact for more info on our competitive sales packages. Trianasdressage@gmail.com
1/22
---
'04 TB Gelding 16.1H. AA/Children's Hunter, Great on Trail. Sound UTD on vaccines and farrier. $2,5000 obo to approved home.
Michelle 619-890-5734.
Email: Fleck98@gmail.com
12/20
---
---