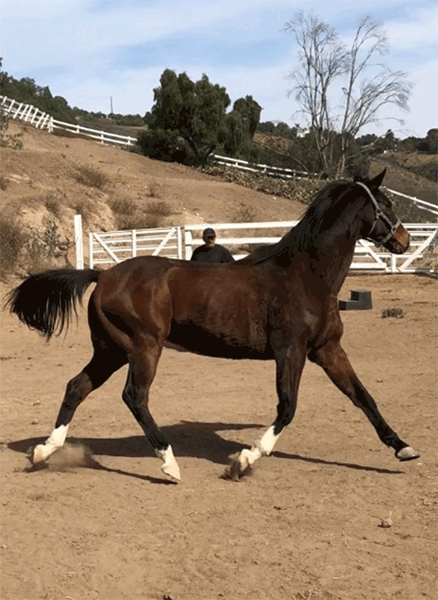 Da Benchy- Registered with the Jockey Club
Handsome 14 year old thoroughbred for sale. He is 16 hands, a beautiful mover, super sweet and looking for his forever human. We do not have enough time to ride him or give him the attention he needs. He was trained and rehabilitated off the track at UC Davis in their equine program. Sired from Benchmark (KY) and grandfather Alydar (KY).
Lunges
Ties, tacks and loads easily
He is great on trails and arena work
Ask: $3,000
Phone: 818-451-8298
Email: Mkfarms6@aol.com
---
Soldier is a sweet, smart & safe AQHA gelding. Safe enough for a child, fun enough for an adult. Push button ride, easy lateral work, comfortable daisy cutter movement. Soldier has done everything from endurance riding & pushing cows in Texas, climbing mountains in the desert to packing children over cross rails in the arena. Great on trail, loves people and dogs, no buck, spook or bolt. Excellent ground manners, cute enough for the horse shows. Started on flying changes. Currently leased by a beginner who loves him but can't afford him. Bombproof, has seen it all despite his young age. He loves to jump, has gone both English and western. Bold & flashy.
Owner's graduate school forces sale. Price negotiable to an excellent home with good horse people. Email: kellyknotablonde@gmail.com
6/26
---
North Run "Harry" is a 4 year old OTTB, 16hh chesnut gelding. Jockey club registered. Trailers quietly, cross ties, easy bather, good for the farrier, loves cuddles, wants to be next to you all the time, desensitized and very tolerant. Walks, trots, canters, and gallops under saddle, lunges well, and is learning to go on the bit under saddle and while lunging. Started on ground poles and over small cross rails, and can do flying lead changes. Definite hunter/jumper potential, eager to jump. Ready to finish off your way (recommend a confident intermediate or advanced rider to finish his training). MUST GO TO A GOOD HOME.
$3500 OBO, tack and blankets for an additional fee. Email: stephcolvin@hotmail.com
6/25
---
Missouri Fox Trotter, 17 year old gelding. Stunning eye candy Tobiano. He is playful and intelligent. Companion horse, not trained. Age and health issues force us to relocate. Looking for someone who has the time to spend with him. He has been a pasture pet and misses human interaction. Price is negotiable. Good home is a must. Email for details. win7@sbcglobal.net
5/17
---
15 year old registered paint, 15.2 hands. Loads of personality, trailers great, good with farrier, always ready to go. Has tons of miles left on him. Knows his leads but needs guidance at times. I have only used him on trails, has had some arena work. Not for beginners, needs confidant rider. He deserves to be ridden much more then I have time for. Good home is a must
Phone: 805 453 3433
Email: nhoodbrooks@gmail.com
3/28
---
Triana's Dressage is proud to present High Meadow Dancer
This beautiful seven year old pure bred Lusitano Gelding has shown through first level , loves to work, has an exceptional uphill Canter, Tons of potential to move up the levels, super sound and is great on trail.
Good home a must
Located in The beautiful hills of San Marcos CA
Please PM for video and more information.
Email: Trianasdressage@gmail.com
3/28
---
ISO Athletic, Smooth, Gaited horse for sale, under the age of 10 years. Gelding preferred, would consider the right mare. Looking for sure-footed trail horse to be my next partner. I am a life long horse owner with over 40 years riding experience. Horse would have a forever home with me, can provide references. Please email description, photos and video to dboydgoodman@gmail.com
3/28
---
---
---