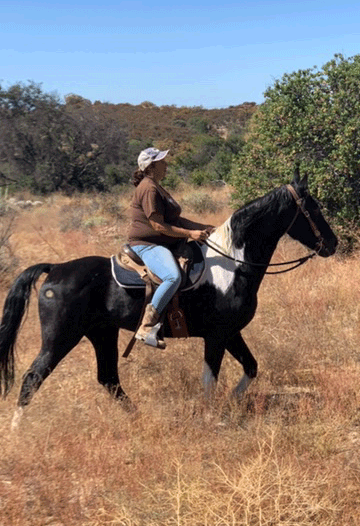 Boss
Spotted Saddle Horse...
Age: 11 years old
Sex: Gelding
Height: 15.2 hands gelding.
A gentleman to ride out alone or in groups on the trail. Also will work in the arena, smooth and easy in his gait, fun to ride and he also canters. Boss will take the lead or back end of a trail ride and anywhere in the group. Good manners and current on shots, feet and his teeth. He trailers well and has been in overnight camp outs. This is a nice horse and you can put him in with others in a larger area, not grumpy at all.
Asking $7,000 for this nice broke guy...
Phone 951 295 0408 or
Email Us at gaitedhorsesrus@gmail.com
Visit https://gaitedhorsesrus.com/ for this and other horses available
---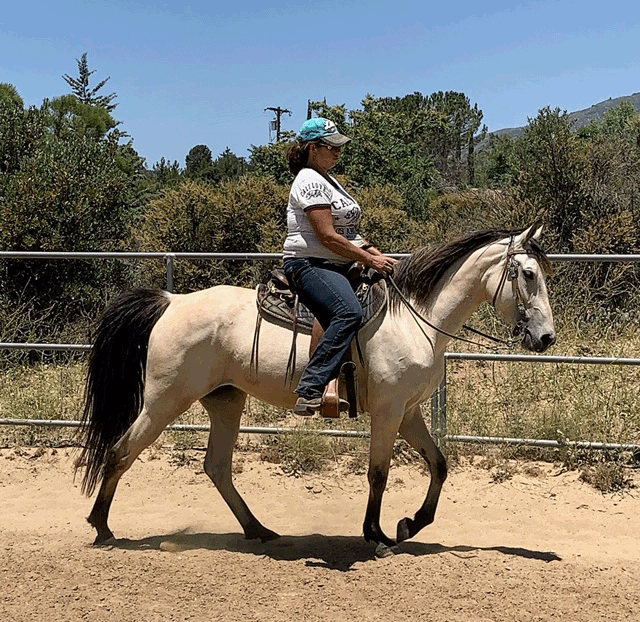 Missouri Fox Trotter for sale
Age: 5 years old
Sex: Mare
Height: 14.3 hands gelding.
This Buttermilk Buckskin mare eats up the trail! Surefooted, never has had shoes, good legs, feet and bone. Would be well suited for anyone who wants to ride the miles, could go endurance, or competitive trail rides. Happy just gaiting down the trails and roads. Can be turned out with others, not a dominant mare. Stands for mounting, etc.
Asking $8,500 for this sweet mare...
Phone 951 295 0408 or
Email Us at gaitedhorsesrus@gmail.com
Visit https://gaitedhorsesrus.com/ for this and other horses available
---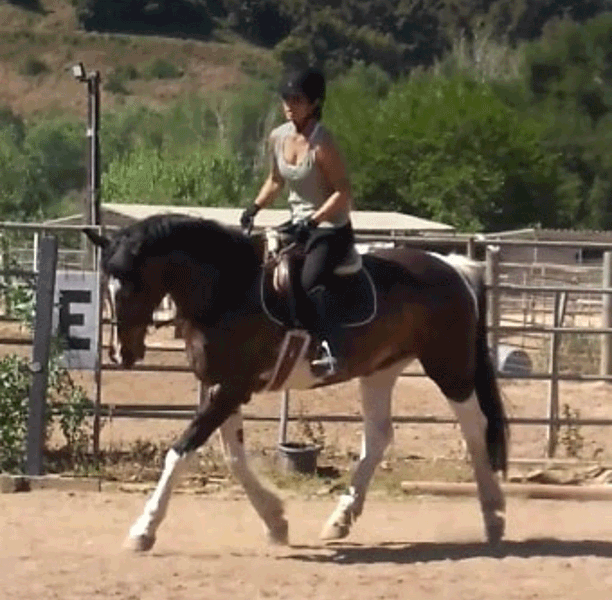 Nikita is a flashy 15 year old mare- EXTREMELY easy keeper. Big bodied with beautiful conformation and movement. Schooling 2'0, Has had cross country schooling as well as clinic experience. Brave to whatever is in front of her. Clips, ties, stands for farrier. Excellent ground manners, trailers like a dream. Hunter jumper, trails, cross country, some dressage experience. Not green but she is not a beginner's horse as she needs a strong, committed rider that will keep in a consistent program. Intermediate and up only. This mare has a ton of potential, selling because I'm a mom with a limited schedule and I don't have the ability to give her the commitment she needs.
Text (386)747-9309 for more info.
---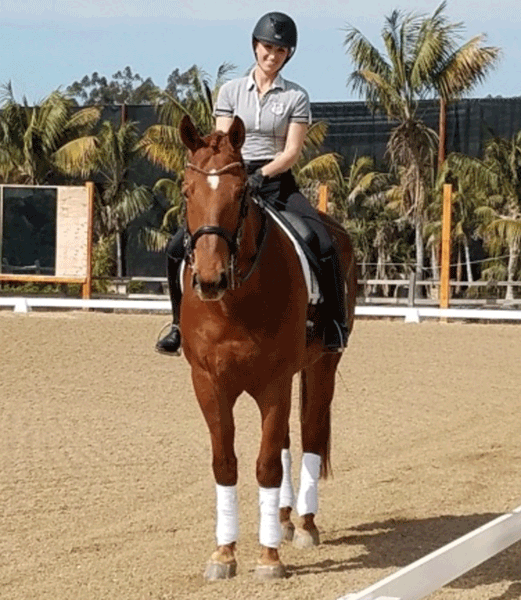 Jack is a chestnut Irish Draught Sport Horse gelding, born in 2008, approximately 17.1 hands tall.
Jack has successfully shown through 4th level and is currently schooling the Prix St. George movements. He excels in the lateral movements and has a natural talent for the piaffe and passage. Jack has an extremely willing personality in addition to three wonderful gaits. He is a complete gentleman and is always happy to please. He is suitable for a confident young rider or an experienced adult amateur, who has the desire to move up the levels. Jack also enjoys going out on the trails with or without other horses. He clips, ties, trailers, and stands well for the farrier.
Asking $40,000. Located in Poway, California.
Please contact Laura Price at (760) 533-0435 or laurapricedressage@gmail.com
---
7 yr old 17.1 hand Black Thoroughbred gelding. Lightly shown .75 to .90. Eventer prospect. Could possibly do Hunters with more training. $12,500 obo. slideorflyequines@yahoo.com
1/10
---
16 yr old palomino tobiano APHA mare. Pedigree includes Doc Olena, Delta and Smart Little Lena. Proven performance broodmare. Trained in Reining, Gymkhana and a great trail horse. $7,500 obo. Slideorflyequines@yahoo.com
1/10
---
Family friend and Kid safe, amateur lessoner, Molly is a 8 yr old 15hh grade quarter horse mare. She's a little rockstar trail horse and great around kids. Super cute mover she's really a doll. Contact me for more info. 770 966 6616
1/9
---
18-year-old going on 10. 17 hands tall and is a bay gelding. Simple and great around all horses. You can start your kid in cross rails and work up to 2'9 jumpers. Easy keeper, gets changes and is low maintenance. Can do all 3 rings. He would be a great addition to a trainer's lesson program. Asking price is $7,500. He can also go western and will do trails.Loads, crossties and no bad ground manners.
Phone: 760 224 8053
Email: vlowe111@yahoo.com
11/27
---
Performance Horse Deluxe
This classy well built Buckskin gelding will definitely get you noticed. Beautiful head, gorgeous well set eyes, athletic build. Well balanced - well trained. Solid walk, trot, lope, flying leads, leg yields, side pass, haunch/forehand turns.
ABRA registered Buckskin Dun Got Potential aka Charlie. Solid 15.1hands.
Great feet, sound no maintenance, UTD on everything.
Western, western Dressage, hunt seat, halter, Show trail. This 7 yr old gelding is best suited for an advanced rider as he will mirror riders confidence.
Please serious inquires
Vet checks welcome
Video available on request
Price @$10,000 negotiable to a good show home
Call , text, E-mail 503.551-2044, lykonsclan@yahoo.com
10/2
---
EquineRacers.com is a 501c3 no profit horse placement program in SoCal. We have OTTBs for sale on and off the track, some restarted. Visit website at equineracers.com for current listings. 8/8
---
---
---
---