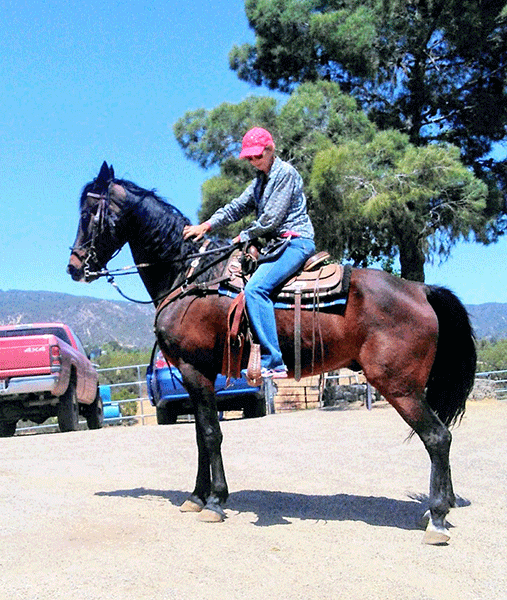 Stretch
Tennessee Walking Horse...
Sex: Gelding
Height: 16.3 hands
This is a good mannered gelding. He's a big guy at 16.3 hh with a big body and very smooth gaits. Stretch is a natural, smooth, racking, gaited horse! Will walk slow and go all speeds up to a fast racking super smooth gait! Sure footed on the trail, and will also work in the arena. He side passes and neck reins, does Obstacles and helps you open and closes gates. One of the best horses I've had to ride out alone, and he does well in the groups that I have ridden him out with. Trailers, ties all day, always been healthy. No negative health history, nice big smooth healthy horse. Stretch is friendly, likes people and likes being handled and groomed. Up To Date on shots, feet and teeth.
Asking $5,500 for this big guy.
Phone 951 295 0408 or
Email Us at gaitedhorsesrus@gmail.com
Visit https://gaitedhorsesrus.com/ for this and other horses available
---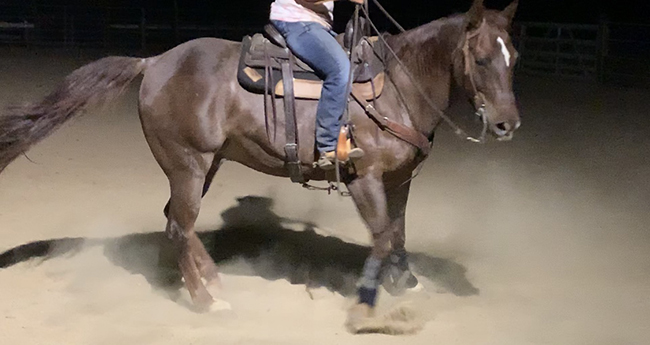 Dually(Dualin Dude) is a fantastic reining cow horse or amazing ranch horse. He has been in Training with Linn Van Dusen in Fresno, California since Sept, 2019 and is now ready for his forever home. We were moved out of the country and don't know our return and that is why we are selling him. He is child, husband novice and experienced rider ready. He is money earning and has a very good head. Incredibly smart, easy keeper, and great with everyone. Never had any medical issues, owned him for 4 years now. We used him on our farm to work cows and pleasure ride. He is a trained reigning cow and has been competing again recently with Linn. No vices. temperament is 1 with kids and first time riders but will go as fast and as hard as you want when working cows. Asking $12,500.
Email: megankate@midwestanimaltraining
---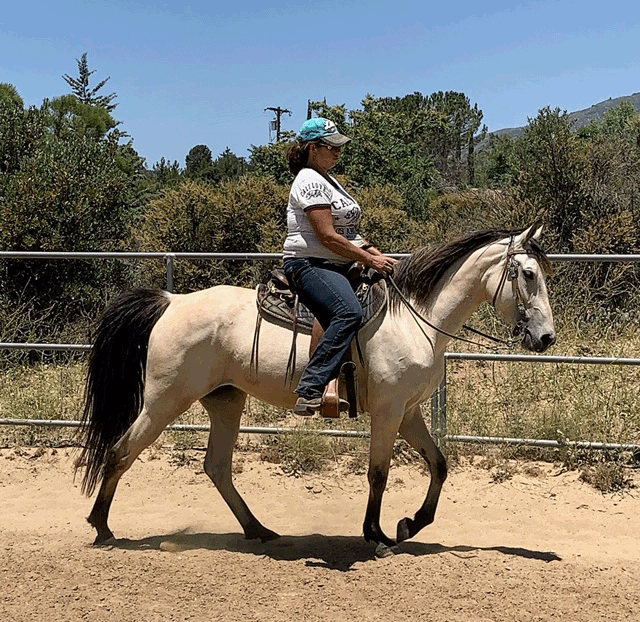 Missouri Fox Trotter for sale
Age: 5 years old
Sex: Mare
Height: 14.3 hands gelding.
This Buttermilk Buckskin mare eats up the trail! Surefooted, never has had shoes, good legs, feet and bone. Would be well suited for anyone who wants to ride the miles, could go endurance, or competitive trail rides. Happy just gaiting down the trails and roads. Can be turned out with others, not a dominant mare. Stands for mounting, etc.
Asking $8,500 for this sweet mare...
Phone 951 295 0408 or
Email Us at gaitedhorsesrus@gmail.com
Visit https://gaitedhorsesrus.com/ for this and other horses available
---
The Big Guy. 7 yr old 17.1 hd Black/Brown Thoroughbred gelding. Show miles in Jumpers. Eventer, Jumper or Dressage prospect for an intermediate youth or AA in a program. $12,500 obo Erika slideorflyequines@yahoo.com
200504
---
Stunning, dark bay/black 17 y/o TB (never raced), 16.2 hands, looking for a loving home. Puppy dog personality, loves to please. Clips, ties, bathes, farrier ok. Perfect for trail ride, ranch work, or flatwork. No buck, rear, not a cribber. Great pedigree after Seattle Slew and Pleasant Colony. Asking $3,500 negotiable to a good home.
Email: jagnapiatek@yahoo.com
200504
---
Paige is a beautiful, big, stocky, 8 year old, 16 hands, Quarter Horse Mare. She is very friendly and loves being around people, she also gets along great with other horses and other animals as well. She has a calm, relaxed, friendly personality. She learns quickly, she has been ridden mostly western as a trail riding horse but could do more . Only $2,300 Call 818-635-6180
200221
---
---
---
---