Sponsors
---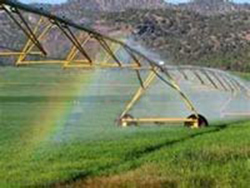 SoCal Hay Sales
Committed to supplying the equine community with wholesale quality products. Connecting horseman, equine facilities, Coops and feed stores with the highest quality hay, shavings and equine products available. Our products come direct from the farm or mill to your facility.

Contact Jason Allensworth at 559.281.7527
---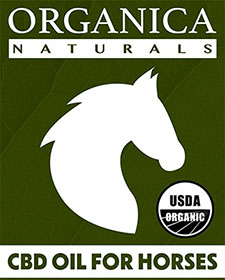 Organica Naturals
CBD Oil for Horses
Straight from the horse's mouth, the Organica Naturals brand is the best CBD oil for horses anywhere!
Your equine companions will love our cannabis — and so will you — because it's grown right here in the USA and certified organic by the USDA. Organica Naturals CBD is made from whole-plant cannabis that's painstakingly harvested by hand and flash-frozen to protect the integrity of the medicines inside. We use subzero extraction to get a virtually perfect phytochemical copy of the plant in every single drop, so your equine beauty gets everything nature intended.
CBD oil for horses from Organica Naturals is bursting with essential cannabinoids, like Cannabinol (CBN), Cannabigerol (CBG), and Cannabichromene (CBC). Cannabinoids work together to boost the effectiveness of our full spectrum horse CBD through a natural phenomenon that scientists call the "entourage effect." The more cannabinoids there are in your horse hemp oil, the better it works.
Best of all, you can rest assured Organica Naturals CBD oil for horses is always 100% free from pesticides, harmful chemicals, and heavy metals. Every batch is manufactured in an FDA-registered, U.S. Hemp Authority Certified and Non-GMO Project verified manufacturing facility and always 100% USDA Organic Certified, of course.

Discover the benefits of Organica Naturals Equine CBD today!

Email: questions@organicanaturals.com
https://www.organicanaturals.com/cbd-oil-for-horses/
Puterbaugh Dressage Sport
Dressage / Training / Lessons / Clinics / Sales / European Imports
P.O. Box 845, Wilton, CA 95693. 916-247-9790
---
Paddington Station
Boarding / Training / Lessons / Children / Adult / Camps / English Riding / Dressage / Eventing / Lay-ups / Retirees
12400 Eel River Rd., Potter Valley, CA 95469. 707-743-2541
---
Old Town Carriage and Pony Parties
Pony rides / Train Rides / Carriage Rides / Face Painting / Balloon Animals / Jr. Jumpers
Eureka, CA 95502. 707-445-1610
---
Morning Star Insurance ~ Melynda Silvashy
Medical Coverage / Insurance
PO Box 694, Cotati, CA 94931. 707-529-9484
138 E. Huntington Dr. Arcadia, CA 91006
---
Horse Plus Humane Society
Equine Rescue / Sales
P.O. Box 6108, Oroville, CA 95966. 530-284-6522 or 1-877-Luv-Horse
---
Ponderosa and Sun Realty - Adam P. Cleff
Land / Ranch Specialists
635 S. Main, Willits, CA 95490. 707-459-5108
---
Sterling Equine Appraisals
Equine Appraisals
1623 N Del Rey Ave, Sanger, CA 93657. 559-453-2919
---
Fancy Wheelin'
Horse Drawn Carriage Service
15443 Rancho Ramon Drive, Tracy, CA 95304. 888-326-2994
---
Safe Haven Horse Rescue & Sanctuary
Boarding / Lessons / Horsemanship / English / Western / Takes In Abused/Unwanted Horses
3950 West Anderson Drive, Cottonwood, CA 96022. 530-347-4941
---
Laurel Roberts Equine Design & Consulting
Equestrian Properties / Barn Construction Consultation
930 Junipero Way, Salinas, CA 93901. 831-682-1121
---
Sierra Equine Appraisers
Equine Appraisals
4740 Holly Drive, Shingle Springs, CA 95682. 916-719-2875
---
Memig Weed Control
Pasture Management
P.O. Box 424, Chicago Park, CA 95712. 530-274-8324
---
Emergency-1 Response, Inc.
Equine Event Medical Services
Serving California. 866-840-0911
---
The ReactorPanel Saddle Company
Dressage / Hunter / Jumper / Endurance / Fox Hunting / Trail / Cross-Country
414 Lesser Street, Oakland, CA 94546.
---
Pacific Ag Commodities
Horse Bedding (Rice Hulls)
P.O. Box 348376, Sacramento, CA 95834. 916-419-8590
---
Pony Party Passions
Boarding /Lessons /Rental Stable /Western /English /Horsemanship / Pony Party /Barn Concierge
Newcastle, Placer CA 95658 916-997-7170
---
Pitto Ranches, Inc.
Livestock & Horse Apprasial Service (From San Francisco to the Sierras)
6775 Binghamton Road Dixon CA 95620 Phone: 707-693-9322
---
Body Clipping By Elaine
Body Clipping
19222 Connie Dr. Grass Valley CA 95949 Phone: 530-575-7603
rhodestoo@aol.com
---
An Equine Addiction
We are your one stop source for all your horse, livestock, bedding, arena, property and barn needs.
2940 Ramona Ave. Sacramento, CA 95826 Phone: 530-308-4582
---
The Second Race
Retired Race Horses / Thoroughbred / Quarter Horse
We are a national network for ex-race horses and those bred to race. We find homes/new careers for race horses off the track.
122-A E. Foothill Blvd # 300 Arcadia CA 91006 Phone: 626-733-3815
thesecondrace@gmail.com
www.thesecondrace.com
---
Placer Horse and Homes
Farms and Ranches
548 Gibson Dr #200, Roseville, CA 95678 Phone: 916-202-7851
placerhorseandhomes@gmail.com
---
You Can Post a FREE Business Listing Here!