Beautiful 20 acre boarding stable in Redlands is looking for a trainer.
Box stalls, mare motel and pipe stalls. 3 arenas, one lighted, several round pens, working trail area, outside trails and very peaceful. Facility is under new ownership and we are working on improving the facility and keeping it well maintained. Very reasonable rates.
Please call Tracy at 760-443-3651.
---
Hello,
I am Don Dyson and have recently patented a system for relieving weights from horses' legs and hooves during long-term rehabs.

I want to rent a horse and a small site to do a 30-second video about this new horse invention, the HGR, which attempts to improve on healing for injuries, such as for broken legs, and diseases, such as horse laminitis. This horse in the short video will experience no lifting at all. Simple and easy.

I will pay $100 for use of the horse, and $100 for the use of the site, or whatever is considered as fair compensation. Also, $25 oer hour for each of two presenters, one of which will be the lead voice for the few words spoken.

If you know if any two horse persons whi might be interested in doing this video, and you wish to participate in any way whatsoever, please contact me and I will give you all of the information that you request.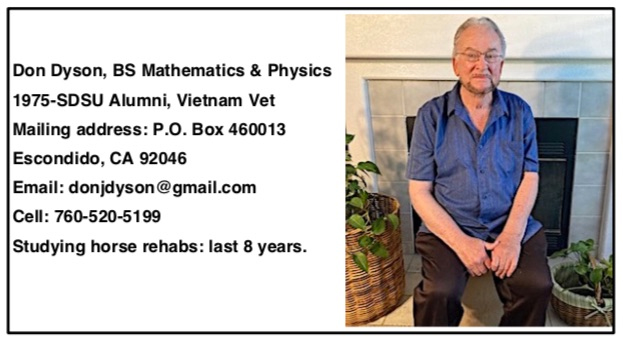 Thanks, Don Dyson
Cell: 760 520 5199
Email: donjdyson@gmail.com
---
Experienced Western pleasure rider looking to exercise and groom your horse. Quarter horse preferred but open to other breeds. Contact Andi missandi99@gmail.com.
230221
---
Quiet well broke trail horse wanted. Occasional ring work and obstacles just for fun. Under 15yo and at least 15hh. Need a been there done that and safe mount. Excellent home! Under 10k.
Phone: 302 562 0582
230103
---
---
---
---
Post a Photo or Text Classified Ad!
We Accept: