When I posed for this photo on my first horse, Geeves, we werenít planning to move or go anywhere, but I insisted on putting on the helmet just in case.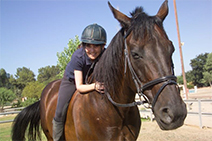 August 1, 2015 was International Helmet Awareness Day 2015. For the past couple of weeks, my local tack shops and favorite equestrian catalogs offered promotional discounts on riding helmets to encourage riders to invest in and use this important safety equipment.
Helmets are probably the most important equipment that equestrians use when they ride and work around horses. You don't absolutely need a saddle to ride a horse...
Read More......