SoCalEquine.com is Proud to Present These California Equestrian Businesses & Clubs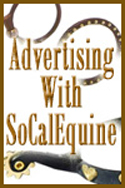 Welcome
Our mission at the Southern California Equestrian Directory is
to help our Equestrian industry continue to grow and thrive.
Viewers can find the products and services located throughout California in one great source right here within the Southern California Equestrian Directory. Our directory is loaded with horse related items, products and service providers located right here in California, which is unmatched. New information is added daily throughout the week. We listen to your suggestions and strive to have an easy to navigate format for viewers to find just what they are looking for.

At SCED, we offer a means for every level of equestrian related business the opportunity to expose their business to a large horse interested viewer base.
Visit our Site Map for the full list from A to Z.
The secret is out…
a hidden gem in the heart of Los Angeles



Written by Dressage student, Boarder, Therapeutic Riding Instructor (C.A. Collins)




Someone once said, "Horses find us, we don't find them." There might be some truth to that because I unexpectedly came to own my own horse (that's a long story) who is now happily boarded at The Paddock Riding Club. He has 55 miles of trails to explore, many various arenas to choose from, lots of friends and best of all, he is safe, and extremely well cared for when I'm away...

Read More......


Riding:
The Allure, The Passion, The Obsession

Horses and riding have always allured me, and the intellectual side of myself has, from time to time, tried to figure out — Why? What calls my Soul to horses? Why is it that nothing else will quite do? Join me on my quest to discover what it is, and why, us horse people must ride.

California: Pacific Crest Trail, off Liebre Mountain — Springtime, 2002. Buckeyes are just beginning to pop with small brilliant lime-green 'palm trees' bursting out at the end of the branches. The tree we pass now is overgrown and grabbing for my face; I duck hurriedly and just miss it. Now we glide past gooseberries with stalks of shiny green leaves and delicate red florets. Now more buckeyes. Now a grove of clustered, densely-packed oaks with textured gray bark and bluish leaves. This is one of my favorite places, a steep incline at the Northern reaches of the Angeles National forest, above the vast Mojave Desert and the great Tejon Ranch. Time stands still on this edge of forest rim, except for the constant changing drama of the seasons....
| | | |
| --- | --- | --- |
| | Additions to Southern California Equestrian Directory | |