by EQUINE LAND CONSERVATION RESOURCE
Saving land for horses and horse-related activities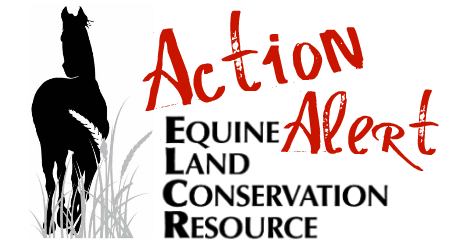 For months now, ELCR has been working with our Conservation Partners, Coalition for Recreational Trails and the Rails-to-Trails Conservancy, on the reauthorization of the Transportation Alternatives Program, which includes the Recreational Trails Program (RTP) under the Transportation Bill. The RTP is important to all recreational users of trails including HORSEMEN and WOMEN.
Two amendments have been filed to the Surface Transportation Reauthorization and Reform Act of 2015 (HR 3763) that would specifically eliminate the RTP. The first amendment (#69) was filed by Rep. Buddy Carter (R-GA). The second (#158) was filed by Rep. Ted Yoho (R-FL)..
These amendments would destroy the RTP, the essential program that has served as the foundation of state trail programs all across the country for more than 20 years. RTP is a user-pay/user-benefit program using the federal gas taxes paid by nonhighway recreationists. These amendments would take these taxes and use them for other purposes.
Consideration of amendments by the U.S. House of Representatives is scheduled to begin on Tuesday, November 3rd and continue through Wednesday, November 4th. Time is very short. Please take action to defeat these amendments by contacting your members of Congress.

Click Here to locate your member of the U.S. House of Representatives and their contact information.