Assistant trainer needed at high end Hunter/Jumper barn CM Training Stables in Los Angeles, CA.
Must have show experience up to 3'+ and prior experience teaching lessons to any levels of riders. Must also be very educated on the flat and comfortable schooling horses of all levels.
Please contact Carolin Malmkvist for more information - (310) 359 - 3359
200903

---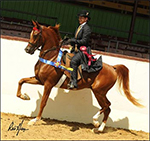 Thriving riding academy/lesson business in Chino - currently giving 60 lessons/week- is looking for a "part-time could be full time" riding instructor. I am searching for a qualified candidate that can help take over the reins of my business so I can focus on setting up other business's. We focus on correct basics of mostly English and some Western riding. 760-443-3651
---
Looking for dedicated horse person with good riding skills who is interested in riding young horses and wants to learn a proven training system. This is an opportunity to learn the horse business from a trainer with 40 years of experience working in English, Western, and driving disciplines. Applicant must be within reasonable driving distance in Los Angeles traffic of 91011 zip code. Applicant must have excellent people/customer service skills, as well as riding experience. Applicant must willing to help with horse care/grooming and make this job their priority. Dependability and good work ethic a must. Hourly pay commensurate with experience.
email resume to: charni@charnilewis.com

200622
---
S&D Horseback Riding is looking for a hard working local experienced trail guide. Must have extensive horse knowledge be local to Norco CA 92860, able to work long hours, No Drama just hard work. Pays $13 hour plus good tips after you are fully trained to do all aspects of ranch and business care for a large rent string. Must be able to work weekends be willing to clean stalls and able to work long summer days.
Please visit our web site at https://www.sunshineanddaydream.com before calling Sonja 909-645-1270
---
Ranch Maintenance full time position Mon-fri in East Rancho Santa fe. Duties include feeding,cleaning stalls,general ranch maintenance,grass cutting,fence mending,tractor maintenance,irrigation adjustments,chicken and goat care,handyman work.Must have experience with horses and knowledge of equipment use and care. 6:30-4pm.Possible housing avail. Please call 619-813-4882
200915
---
Part-time assistant for equestrian facility needed! Work in a beautiful location in a unique equestrian neighborhood in Los Angeles. Work in conjunction with the site manager to ensure fluid work systems and schedules. DL and references required.
Phone: 310 454-5905
Email: sitemanager@sullivancanyon.org
200831
---
Full time position available Monday-Friday 6am-3pm. Stall cleaner/feeding/fix it guy with tractor experience. Possible on site living. Contact for more info.
Email: adastra_stables@outlook.com
200826
---
Ranch Mantenance full time position in East Rancho Santa fe. Duties include feeding, cleaning stalls,general ranch maintenance, grass cutting, fence mending, tractor maintenance, irrigation adjustments,chicken and goat care, some handyman work.Must have experience with horses and knowledge of equipment use and care. 6:30-4pm.Possible housing avail. Please send experience to info@OakridgeFarmRSF.com
200824

---
Working Student for Dressage training ranch in East Rancho Santa fe. Position starts as an unpaid position and will become a paid position. Duties include grooming, tack cleaning, horse turn out, some stall cleaning, feeding, other animal care, general ranch assistance.Some horse experience needed but we will train. Please call 619-813-4882
200824
---
We are looking for someone to clean stall and to groom horse
Its full time. We are in Riverside CA, text me at brendaandbubba2@gmail.com
200810

---
Professional groom need for 6-7 horses in Competition Dressage Barn in Encinitas. 6:30-4:00 Mon-Frid. 7:30-2:30 Saturday. Feeding grooming turnout hand walking dressage Horses.
Phone: 310 435 2204
Email: dblakecd@aol.com
200804
---
ISO full time home groom at our stables in Encinitas, Ca. Stall cleaning, grooming etc. 6 days a week. Email: bjbollig@live.com
200731
---
Seeking a hard working, friendly hunter/jumper assistant to work 3-5 days 12pm-5pm per week with turn outs, rides and lessons in Santa Barbara, Ca. Beautiful, small stable with nice clients.
email natalie@highflyingfarm.com
200720
---
Looking for a serious, committed, motivated working student to help 4-5 mornings a week. Duties include but are not limited to stalls, feeding, tacking, grooming, bathing riding. Lessons are generous and we have a variety of leveled horses to learn on. This is an unpaid position.
Phone: 401 662 6376
Email: wretchette@aol.com
200716
---
ISO: Working Student. (this is NOT a paid position) looking for a confident, experienced, person to help with about 10-15 hours a week of horse chores in exchange for riding lessons (jumping/dressage) We are located in San Marcos. Duties include but are not limited to tacking/bathing/stalls (4)/ rehab work/feeding/helping at shows etc. Riding & lessons most days you are scheduled.
Phone: 401 662 6376
Email: wretchette@aol.com
200716
---
Busy dressage barn in San Marcos looking for immediate part time grooming help. Pay can be hourly or in exchange for lessons.Must have previous grooming experience.Please e-mail for more info trianasdressage@gmail.com
200714
---
Seeking experienced horse person with good people skills to help with riding lessons and public trail rides. This is a part time as needed position, you must be local to the San Diego east county area. Please email with contact info, experience, and availability. Thank you. Email: littletranch@live.com
200704
---
Escondido SAN DIEGO-Looking for a knowledgeable groom/horse-person to work 5 days a week on our ranch as we continue to grow the facility. Need help with mucking, feeding, daily grooming and maintenance of 6 horses and our mini. Please call Bobby at 619-302-7549 or bobbyp@hotelinvestmentgroup.com.
200624
---
Ranch maintenance position full time, must know irrigation systems, repair fencing, use of mechanical equipment and tools, tractor driving and care, weed wacking, gardening. If you have experience, stall cleaning and horse feeding. 619-813-4882
200624
---
Full time dressage grooming position available in Encinitas. 6 days/week $3000/month. Must have prior grooming experience and references.
Phone: 310 435 2204
Email: dblakecd@aol.com
200602
---
Dressage barn in San Marcos looking for part time working student. Must have previous grooming experience. Currently this is a work exchange for lessons on one of our horses or your own. Please e -mail for more info and to apply trianasdressage@gmail.com
200601
---
We are a boarding stables looking for a reliable stall cleaner for Saturday's all day or 1/2 day. Need extra cash and want to be outside? Please be reliable and able to lift heavy. Located in Redlands, CA.
Phone: 760 443 3651
Email: tracyfincher@me.com
200526
---
---
---
---