S&D Horseback Riding is looking for trail guides. Must live local to Norco and have extensive horse experience preferably having taken instructions in multiple disciplines. qualified rider should understand the nature of a horse and be able to explain to first time and beginning riders how to stay safe by properly riding and working thru issues that might be encountered during a guided trail ride. Please visit our web site and call 909-645-1270. job starts at min wage during probation then pays up to $15 plus tips reported as $50-$100 day of full riding. Must be available at least 3 days a week.
210112
---
Full Time Groom wanted at busy Hunter/Jumper barn CM Training Stables in Los Angeles, CA. Experience handling young horses and show horses is a must.
Duties include:
- Daily turnout for all horses
- Lunging
- Grooming / Tacking
- Waters / Feeding
Phone: 310-359-3359

www.cmtrainingstables.com
201012
---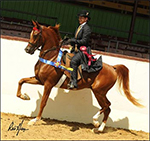 Thriving riding academy/lesson business in Chino - currently giving 60 lessons/week- is looking for a "part-time could be full time" riding instructor. I am searching for a qualified candidate that can help take over the reins of my business so I can focus on setting up other business's. We focus on correct basics of mostly English and some Western riding. 760-443-3651
---
ISO hunter/Jumper trainer for our multi discipline dressage/hunter/jumper show barn located in Huntington Beach. Candidate must be a self starter, positive individual who is excited to put in the time and effort to grow the jumping program. Ideal candidate will be a qualified Hunter or Jumper trainer who has shown and is comfortable taking clients to shows. Candidates with existing clientele will receive priority, pay is DOE. Please send resumes to : jenna.coonen@gmail.com or Carol@crdressage.com
210302
---
Looking for a trainer who is just starting out or expanding business to take over some lessons and training at a currently operating facility in Bonsall. English preferred, but teaching Western is a plus. Onsite apartment also available. Email for more information. animusequi@gmail.com
210218
---
Ranch maintenance 2-3days/week/night check. exchange for efficiency apartment/Utilities included. Rancho Santa fe. work more days for pay. No smoking, no animals(horse ok). Duties include gardening, raking, tree trimming, irrigation & fence repairs,general ranch hand work.Must be hard working, respectful, responsible, self motivated and have reliable transportation. 619-813-4882.
210215
---
Groom/working student part time can turn into full time for right person. Job includes grooming, tacking for trainer, feeding, turnouts, occasional stall cleaning.
Angela 619 322 7433, Location Ranch Santa Fe CA
210205
---
Ranch hand wanted for 2 retired geldings Santa Ana.
11 shifts available am/pm to clean, feed, provide supplements, fly masks, etc. Horses are free range in large arena and are only put in stalls during
rain. Country atmosphere, private residence. Must be dependable rain or shine horse experience and references required. Reply to sdgnoah@gmail.com
501c3 non-profit
201230
---
Wanted: Unpaid experienced jumper rider in the Escondido area to condition and jump several show horses. Must be comfortable with jumping at least 1 meter, preferably 1m20. Should be available 2 - 3 times per week, usually in afternoons. Opportunity for riders to show. Private barn with 10 horses (several different breeds). Lessons provided as needed.
Contact: Tom at tomhufford@aol.com
201112
---
Volunteers Wanted: The Armed Services YMCA's Horse of the Sun Ranch in Pine Valley provides programs to active duty military families and is seeking volunteers to assist staff with general ranch chores and maintenance, 9 AM-Noon, M, W, F, or Sat. You self-schedule your volunteer service.
Please contact our Volunteer Manager, Dan Zeller, at dzeller@asymca.org to learn more.
201030

---
---
---
---