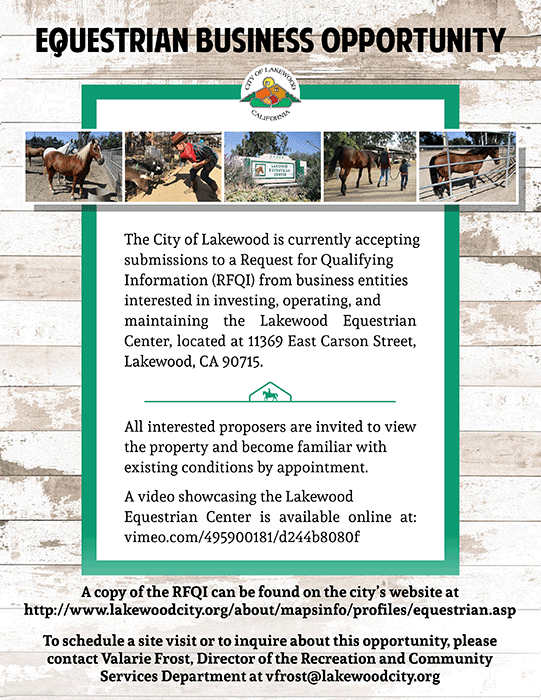 The City of Lakewood is currently accepting submissions to a Request for Qualifying Information (RFQI) from business entities interested in investing, operating, and maintaining the Lakewood Equestrian Center, located at 11369 East Carson Street, Lakewood, CA 90715
All interested proposers are invitedto view the property and become familiar with existing conditions by appointment.

A video showcasing the Lakewood Equesrian Center is available online at
vimeo.com/495900181/d244b8080f
A copy of the RFQI can be found on the city's website at https://www.lakewoodcity.org/about/mapsinfo/profiles/equestrian.asp
To schedule a site visit or to inquire about this opportunity, please contact Valarie Frost, Director of the Recreation and Community Services Department ar vfrost@lakewoodcity.org
210113
---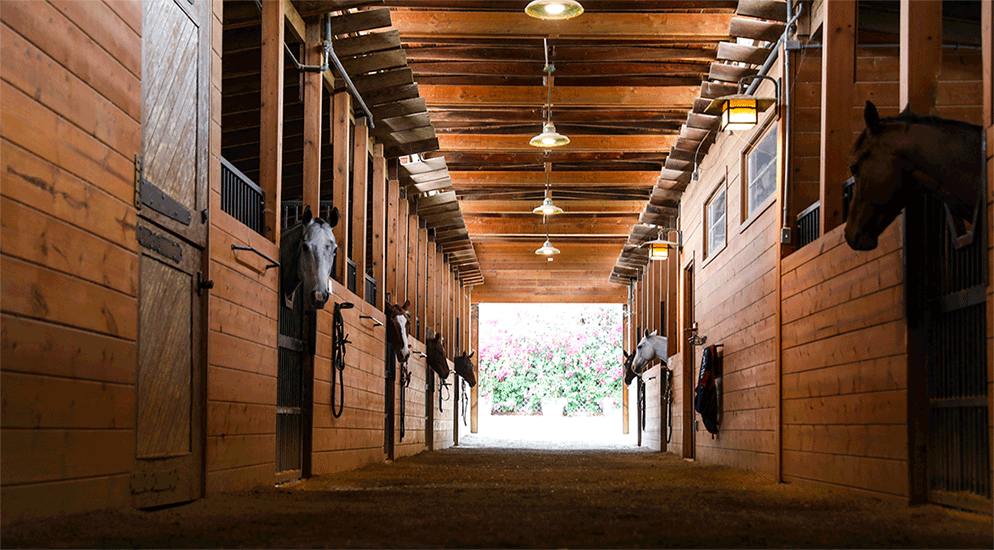 Premier South Pasadena horse training facility FOR LEASE.

Twenty four spacious stalls (24x24, 14x14, 24x12).

Cleaned three times daily.

Horses fed premium feed three times daily.

Large arena with sprinkler system.
Email for more details and to schedule a visit. schuermansporthorses@gmail.com
201103
---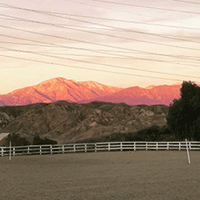 Beautiful 20 acre boarding stable in Redlands is looking for a trainer.
Box stalls, mare motel and pipe stalls. 3 arenas, one lighted, several round pens, working trail area, outside trails and very peaceful. Facility is under new ownership and we are working on improving the facility and keeping it well maintained. Very reasonable rates.
Please call Tracy at 760-443-3651.
---
H/J trainer with clientele w/ 10+ horses looking for a new facility in North County SD. Kind and respectful clients. Please email natpm08@yahoo.com
200714
---
100 Acre Ranch for Lease with Equestrian area including a barn with twelve stalls, kitchen, bbq's, tack room, and feed room, the round pen is a 52' block and steel constructed with full viewing area and roof, as well as an outhouse. Access to 9,000 Acre Wildlife Preserve for hours of riding.
Phone: 949 245 3925
Email: brianmaddock001@gmail.com
200601
---
I am in search of a rental horse property that I can run my training business KC Equestrian out of and manage boarding clientele. Facility would allow me to train clients and horses, and has possibility for my husband and I to live on site. Arena, stalls or paddocks, and turnouts desired. Orange Park Acres or South OC preferably! Thank you!
Phone: 707 494 4785
Email: kcequestrian@yahoo.com
200505
---
Successful Horse Laundry Service for sale. Extensive client list for over the past 15 years serving San Diego, Orange and Riverside counties. For more information please contact. (951) 906-3124. Serious inquires only.
3/24
---
Equestrian Center in Temecula - Availability for Trainers with Clientele.
In Temecula Wine Country with great views of vineyards & mountains.
Large arena
Box stalls
Cross ties
Covered Paddocks
Shady Turnout
Large Round pen
Shady picnic areas
Large tack room
Trail riding available near beautiful wine trail.
Welcoming facility - All Disciplines.
Call Kim: 951-850-0031
1/13
---
---
---
You Can Post a FREE Classified Ad Here!
We Accept: