Sponsors
---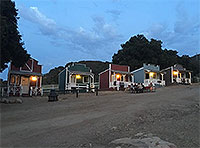 Rancho Oso Guest Ranch & Stables
Bring your horses to beautiful Rancho Oso Guest Ranch, located in the Los Padres National Forest near Santa Barbara! You will have unlimited opportunities for riding miles of trails, combined with all the comforts of home - heated pool and spa, weekend meals, arena, round pen, wash rack, water to all corrals, easy rig parking. Free trail guide service for stays of 2 or more nights! Call ahead to book a guide. If you vacation without horses, you can enjoy our wonderful trail horses on a 1-2 hour guided ride. We even give hand-led rides for little buckaroos, ages 5-8! Great food and perfect trails - what a combination! Call Rancho Oso to make your reservations today!
3750 Paradise Road, Santa Barbara, CA 93105
Overnight accommodations: 805-683-5687
Trail ride reservations: 805-683-5110
FAX: 805-683-5111
---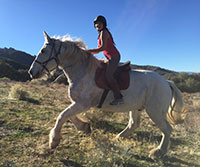 COME AND EXPLORE AN ASTONISHING WILDERNESS ON HORSEBACK!
Please be advised, due to the nature of our trails, and long trot sequences, our riding tours are designed for experienced horse riders!
Let us share an horseback riding adventure with you. We offer several riding packages to experience the challenge and beauty of the horse trails on our ranch, and within the forests and parks nearby. The terrain here is dramatic, varied and rugged so horse and rider are provided an evolving backdrop of challenges, obstacles and landscapes to ride through.
Also offering Boarding.
Phone: 818-437-3546
Second Phone: 661-724-2500
E Mail: Runninghorseranch@hotmail.com
Stagecoach Trails Resort
RV Resort & Campground / Horse Camp / 285 Full Hookups / Rental Units / 75 Corrals / Country Store / Heated Pool / Clean Restrooms / Dogs Welcome / 640,000 Acres of Riding / Hiking / Exploring.
Borders Anza Borrego State Park, For Info & Reservations: 760-765-2197 or 877-896-2267 Toll Free
---
J.T. Ranch
Horse Camping
8651 Quail Springs Road, Joshua Tree, CA 92252. 760-366-5357
---
El Capitan Ranch
Boarding / Lessons / Rental Stable / Layups / Retirement / Overnight Stabling / Resort Camping
11560 Calle Real, Santa Barbara, CA 93117. 805-685-1147
---
V6 Ranch
Horse Camping / Trail Rides / Cattle Drives / Rodeos
70420 Parkfield Road, Parkfield, CA 93451. 805-463-2493
---
White Horse Cabin
Vacation Rental / Accommodates 6 persons & 6 horses
---
Donati's Knotty Trail Away
Equestrian Vacation Rental
Fern Valley, Idyllwild CA 92549 Phone: 760-218-2507
---
Horse Camping, Water and electric hook-ups, restrooms, pool, spa, resort style camping.
11053 Highway 79 , Descanso, CA 91916, Phone: 619-609-1927
---
Lakeside Frontier Riders
Trail Riding / Trail Camping / Trail Maintenance
PO Box 572, Lakeside, CA 92040 Phone: 619-971-0675
---
Cowgirl Up Ranch Retreats for Horse Lovers
Retreats, Vacation, Camping
Arapaho Way, Burson, CA 95225 Phone: 877-789-6797
---
Backcountry Haven
Horse & Rider Accommodations / Vacation w/Your Horse
34323 Bear Clover Circle, North Fork, CA 93643 Phone: 415-485-2994
www.backcountryhaven.com/
---
De La Cour Ranch
Kids Camps / Horse camping / Horseback riding
5000 Horseshoe Meadows Rd, Lone Pine, CA 93545 Phone: 760-614-0537
---
You Can Post a FREE Business Listing Here!