"How Can a Pinched Nerve in a Dogs Neck That is Causing the Dog to Scream Go Away in One Day with No Surgery or Invasive Treatment?"
*Discover the New "Gold Standard" for the Treatment of Pain
*Class 4 Laser Therapy is FDA Approved for the Treatment of Inflammation
Nikko is an 8 year old Labrador. Nikko has arthritis in his neck and his low back, from an accident which he was hit by a car when he was 3. The only injuries were minor musculoskeletal injuries. In addition to his arthritis, he has a pinched nerve in his neck that is so severe, it causes him to scream and yelp every time he moves. Now the pinched nerve did not happen after the accident, it took a few years to surface, as many injuries do.
When he showed the first signs of this pinched nerve, we took him into the clinic for the laser treatment. One 5 minute deep tissue laser treatment and some tissue massage and Nikko headed home. That night he slept great and the next day he was back to his old self, barking and playing with his "ducko".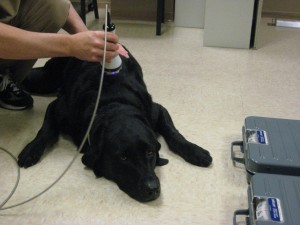 In laser therapy we treat in "joules of energy". The more joules translates into more removal of inflammation and pain, as well as depth of treatment. In an average Class 4 laser treatment, we can deliver about 3,500 Joules of energy with an average depth of 18 cm. This is a 7 minute treatment. An average low level laser or cold laser treatment delivers only 150 joules with an average depth of 2cm. This is a 20 minute treatment.
In talking about treating conditions in horses, the tissue that is damaged is a lot deeper than a dog or human. Regardless, most areas treated are on the limbs or spine.
We used to own a cold laser and sold it for the Lite Cure LCT-1000 Class 4 Laser. We understand and have seen the benefits of both. Just be careful when you are searching for this therapy that you are not charged for the better treatment in place of the less. An example is a cold laser treatment should be no more than $40 per session compared to a Class 4 Laser treatment ranges from $80-$200 per session. These prices are generalizations and can vary for each area and each clinic.
Arthritis, hip dysplasia, herniated discs, etc, all are inflammatory. Inflammation sets in when the body is under attack by a virus, bacteria, or when there is a tear in a muscle, tendon, etc. Inflammation also happens with herniated discs (the inflamed disc pinches the nerve), arthritis, cruciate tears, laminitis, navicular syndrome, meniscal tears of the stifle, bursitis, etc. Any ending with "itis" means inflammation.
The medical "gold standard" for treating inflammation is either steroids or anti-inflammatories, until now.
Class 4 Laser Therapy or Deep Tissue Laser Therapy (Not Cold laser or Low Level Laser Therapy), will soon be recognized by experts around the world as the gold standard for treating inflammation.
The results we see in practice are mind blowing. Inflammation melts right before your eyes, and this is not an exaggeration.
A human patient with a hematoma from a work accident was told it was going to take 8 months to a year for the hematoma to go down to normal size, "maybe", the doctor said (it was like a half of a football sticking out of her leg on the side below the hip). In just 4 weeks treating the injury 3 times per week, the hematoma decreased 90% in size and the pain was almost completely diminished.
Veterinarians are catching on to the Class 4 laser therapy, slowly. We have used our LCT 1000 Class 4 Therapy Laser in practice since 2009. We started accepting dogs after seeing the great success in human patients and after treating our dog, Nikko. Conditions in humans that can be treated include carpal tunnel, tennis elbow, golfers elbow, hip arthritis, knee arthritis, meniscus tears, and shoulder rotator cuff problems. For dogs, any inflammatory musculoskeletal problem can most likely be treated.
We have not used the class 4 therapy laser on horses yet but there are a lot of vets and equine chiropractors who do, with the same success as seen in humans and dogs.
If you are experiencing pain of any kind you or your dog or horse may be a candidate for this amazing therapy. At this time we are only accepting dogs and humans for treatment but we can give you a referral if needed for equine laser therapy. Please visit our sites for more information about this therapy.
-Dr.Christopher John Fiorentino, DC, CNS, CSCS
Equine and Canine Chiropractor Dog Laser Therapy