Sponsors
CERTIFIED ORGANIC
ALFALFA PELLETS
Our alfalfa pellets are cut from our own certified organic alfalfa fields and milled locally. They are non-GMO and packaged in an environmentally friendly recyclable bag. Our alfalfa is grown organically and our pellets are certified organic. We do not spray any herbicides or pesticides in order to allow our beneficial insect populations to thrive. We take care to choose only the alfalfa that is rich in color and contains the right balance of nutrition for our pellet product. There are no additives included in any process from cutting the hay to when it is finally pelletized so rest assured you are receiving the same quality feed that you would get from the field.
Serving Los Angeles, Orange, San Bernardino, Riverside and San Diego Counties.
Call 760-344-8411 for pallet or truck load quantities.
Online ordering available at www.oasis-organics.com
---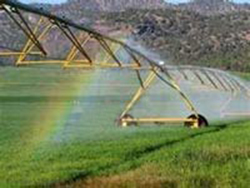 Committed to supplying the equine community with wholesale quality products. Connecting horseman, equine facilities, Coops and feed stores with the highest quality hay, shavings and equine products available. Our products come direct from the farm or mill to your facility.

Contact Jason Allensworth at 559.281.7527
---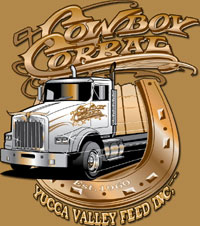 More than A Feed Store ...
Hay, Hay Squeeze Services, Livestock feed, Pet Food & Supplies, Vet Supplies, Vaccines, Saddles & Tack, Ranch Equipment, Farrier Supplies, Western Wear & Accessories, Boots, Hats, Gifts, Decor and More!
56-560 29 Palms Hwy, Yucca Valley, CA 92284
Phone: 760-365-7582
Fax: 760-365-9194
---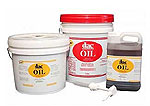 Susie Tommaney - dac ® products pro
Southern California DAC Vitamin and Mineral Dealer. You will find Susie's booth at local Horse shows selling great DAC nutritional products. Available to do presentations to local riding clubs, FFA and 4H on Equine and livestock nutritional products manufactured by DAC by appointment only. If you would like me to attend your Equine functions please contact Susie.
Products - Our best sellers are DAC Oil, Orange Superior, Bloom, Colt grower, DDA Digest aide, Calm B, Total Performance Plus, E & SE, CMZ, Foundation Formula, and the list goes on. We produce a product for just about every need in your horses life. Joint Supplements, Breeding, Hooves, Calming, Shipping, Racing, You name it we make it.
Call or Text Susie - 909- 917-1580
http://www.dacproductspro.com/
---
San Bernardino County
All Pet Feed & Tack
25598 E. Baseline, San Bernardino, CA. 92410. 909-885-8886
---
Amethyst Feed & Tack
Feed / Tack / Consignment / Dog / Cat / Bird / Livestock
7166 Amethyst Ave, Alta Loma, CA. 91701. 909-948-0485
---
Alta Loma Feed
Alta Loma, CA. 909-466-2555
---
Bear Valley Feed
Big Bear Lake, CA. 909-866-7429
---
Caballero Feed Co.
Ontario, CA. 909-947-3814
---
O. H. Kruse Grain & Milling
Ontario, CA. 909-983-3444
---
Chris' Supply
Bloomington, CA. 909-877-1466
---
Coast Grain Company
5355 E. Airport Dr, Ontario, CA. 909-390-9766
---
Yucaipa Feed
Yucaipa, CA. 909-797-2639
---
Feed Barn
Tack / Feed
5727 Phelan Rd, Phelan, CA 92371. 760-868-4840
---
The Horse Corral
Feed
7166 Amethyst Street, Alta Loma, CA 91701. 909-466-2555
---
CW Feed & Pet
Tack Store, Feed Store
7070 Archibald Ave, Rancho Cucmaonga, CA 91701 909-944-9427
---
Skode's Horse Treats Inc.
Low sugar Horse Treats
P.O. Box 5 Aguanga CA 92536 951-572-0709
---
Rancho Feed and Pet
Feed Store/ Health Care/ Horse Supplies/ Pet Supplies
8603 Baseline Rd. Rancho Cucamonga CA 91701 Phone: 909-980-4408
ranchofeed@aol.com
---
Hay Barn
Feed Store
3528 Gird Rd, Fallbrook, CA 92028 Phone: 949-910-3230
feralfeline2@gmail.com
---
Riverside County
Lake Mathews Feed
Perris, CA. 951-780-1470
---
Linda's Feed & Supply
Norco, CA. 951-371-3330
---
B & E Feed
1004 Sixth St, Norco, CA. 951-371-4000
---
Big Horse Feed & Farm
33320 Hwy 79 South, Temecula, CA. 877-Big Horse or 951-676-2544
---
Ron's Vet Supply
56070 U.S. Hwy 371, Anza, CA. 951-763-0033
---
C. L. Smith Hay & Grain
1387 W. Ramona Expwy, San Jacinto, CA. 951-651-1161
---
Dan's Feed & Seed
Perris - 951-657-5111. Temecula - 951-676-4040
---
Temecula Creek Supply Inc. at Galway Downs
English / Western Tack / Feed / Hay / Shavings / Tack Repair / Health Products / Vet Supplies
38801 Los Corralitos Rd, Temecula, CA. 92592. 951-302-0220
---
The Hay Connection
Tack / Farrier / Grooming supplies / Feed / Hay
1152 Sixth St, Norco, CA. 91760
---
Tony's Hay & Grain
Norco, CA. 951-737-4440
---
Kahoots
Riverside, CA. 951-776-0581
---
Ken's Feed
Riverside, CA 951-780-8818
---
Psyllium Husk Performance Pellets, Inc.
Coliclenz / Colic Remedy
23875 California Avenue, Hemet, CA 92545. 951-587-5875
---
Eric Sanchez Trucking & Hay Sales
Trucking and hay sales
435 N 5th, Blythe, CA 92225. 760-574-7237
---
Big Mare's Hay Distribution
Feed Store
35530 Pauba Road, Temecula, CA 92592. 949-705-8154
---
Burt's Hay Co
Feed Store
16489 Yucca St. Hesperia CA 92345 Phone: 760-244-6317
---
EquineSuperFeed.com
Equine Nutrition Consulting
Murrieta, CA 92562 Phone: 801-712-7788
fasthorses@luckymail.com
---
Mountain Feed and Hay
Feed Store
29470 Highway 243, Mountain Center, CA 92561 Phone: 951-719-6990
---
You Can Post a FREE Business Listing Here!