Los Angeles
Equestrian Center

Since breaking ground for the first barn in 1981, the Los Angeles Equestrian Center has become known as the center of the horseworld in Los Angeles proper, as well as in Southern California in general.if not throughout the country. A spectacular facility such as LAEC could only have come from the imagination of a true horseman, one that lived and breathed horses. . It took the dreams of renowned horsemen such as Don Burt and Eddie Milligan, coupled with the business operations and management talent of a self-proclaimed "horse show daddy," better known as Al Garcia, to get the $10 million project from the drawing board and onto the actual 72-acre parcel located in the City of Los Angeles' Recreation and Park system.
Today, in 2011, the LAEC facility shines brighter than ever as a world class horse show complex. Complete with 45 major horse events in multiple disciplines and breeds every year, the facility is also home to top trainers who operate their businesses from the LAEC. There is both long term and temporary boarding with a total of 500 boarding stalls, offering training in most every discipline, horse rentals, an onsite tack store plus an equestrian gift store, and many attractive banquet facilities.

One of the main attractions to the facility is the Equidome, a deluxe indoor arena with seating for 3500. Many years are filled with memories for exhibitors, trainers, owners and spectators who have attended countless events in the Equidome. It makes for a one of a kind show experience for all who encounter it. In all of its glory, the Equidome is still available to boarding and training clients at the facility, when not leased out for an event or function.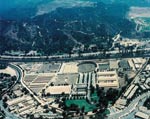 Location, Location, Location! The LAEC is the perfect locale for events, including horse shows, banquets, corporate functions, weddings, and parties. Whether the event is to be large or small, intimate or grand, the facilities are second to none. The LAEC is accessible from two major freeways in Los Angeles, making it function well for transportation needs. Perhaps one of the most cherished features of the LAEC is that it is tucked away adjacent to the secluded area of Griffith Park, with all of its scenery, lush landscape and rich history.yet in minutes, visitors can arrive at many of the area's finest local hotels, restaurants and attractions.

Events are the talk of the town throughout the year at the facility.
Article continued to right...
Equestrian Event & Show Facilities
Sponsors
Los Angeles Equestrian Center

Premier Equestrian Facility / Boarding / Training / Lessons / Horse Shows / Rental Horses / shopping / Dominion Saddlery / Glenroy's Equestrian Gifts

480 Riverside Drive, Burbank, CA 91506

818-840-9063, FAX 818-333-1458

LAEC information ask Mr. Ed:
Ed@LA-EquestrianCenter.com

LAEC management information:
George@LA-EquestrianCenter.com

---

El Capitan Equestrian Center

Boarding / Lessons / Training / All Disciplines / Sales

12307 Willow Road, Lakeside, CA 92040.

619-443-1939

---




Mendoza Performance Horses - Eastside Ranch
Facilities for Clinics & Events / Reining / Cow Horses / English / Western Pleasure / Training / Sales / Lessons / Boarding / Local Transportation
30260 San Timoteo Canyon Rd, Redlands, CA 92373. 909-795-1954

---

Murieta Equine Complex
Two Indoor Arenas / VIP Seating / Cattle Facilities / Three Outdoor Arenas / 3,000 Bleacher Seats / Cross Country Course / 500+ Stalls / Warm-up Arenas / All Weather Facility
Kelly Bess, General Manager
7200 Lone Pine Dr, Rancho Murieta, CA 95683. 916-985-7334

---

Rancho Temescal
Event Center / Open to All Equine Breeds for Events / Lessons & Clinics in Team Penning / Cutting / Roping / Ranch Experience Vacations
PO Box 378 / 3700 Piru Canyon Rd, Piru, CA 93040. 805-521-0511

---

Exhibitor Friendly Horse Show Reviews
Horse show reviews and ratings based on exhibitor and spectator feedback
PO Box 12913 La Jolla, CA 92039. 858-457-5532

---

Shandoni Ranch
Boarding / Events / Horse Shows & Events Facility Available for Lease / Overnight Horse Accommodations / Located just off I-5 in Sacramento County
8846 Sorento Road, Elverta, CA 95626. 916-991-5232

---

Tri Valley Riders
Gymkhana shows
27011 Eagle Run Street, Corona, CA 92883. 951-500-6459

---

Starr Vaughn Equestrian, Inc.
Boarding / Lessons / Training / Breeder / Hanoverian / Sales / Dressage / Hunter / Jumpers / Events Facility
7541 Sloughhouse Road, Elk Grove, CA 95624. 916-689-5121

---

Tejon Ranch Horse Facilities
Boarding / Event Facility
1401 Crane Canyon Road, Lebec, CA 93243. 661-599-0741

---

Glen Annie Ranch
Boarding / Lessons / Training / Rental Stable / English / Western / Picnic and Recreational Venues / Equestrian Facilitities and Events
610 Glen Annie Road, Goleta, CA 93117. 805-968-6887

---

Town of Apple Valley Recreation Department
Equestrain Event Venue/Open Ride Facilitity
14955 Dale Evans Parkway, Apple Valley, CA 92307 760-240-7880

---

McCoy Equestrian Center
Public Riding Arenas, Horse Show Facilities
14280 Peyton Dr., Chino Hills CA 91709 909-548-0868

---

Diamond Hills
Boarding and Event Facility
6033 Dagnino Rd, Livermore CA 94551 510-714-5587

---

Escondido Equestrian Center for Natural Horsemanship
Boarding / Recreation & Event Facility
26002 Bear Valley Hts. Road, Escondido, CA 92027 Phone:760-751-2073

---

Triple Crown Arenas
Complete Equestrian Facilities. So Cals Premiere Dealer of High Quality Sand, Lightfoot and Airfoot!
Alpine, CA 91901 Phone: 619-659-8318
Orange Park Acres Equestrian Trails Corp. (OPA-ETC)
Affordable Arena & Facility Rental for Western / Gymkhana / English / Team Sorting / Dog Shows / Car Shows
P.O. Box 2432, Orange, CA 92859 Phone: 714-740-5151

info@opa-etc.org

---

Buckingham Resources
Equestrian Construction Services / Barn and Arena Construction
PO BOX 17058, Beverly Hills, CA 90209 Phone: 424-332-7435

thomas@buckinghamresources.com

---

Twin Creek Ranch
Boarding / Rental Stable / Events/Venue
44375 Us Highway 79 South, Aguanga, CA 92536 Phone: 951-551-2121

info@twincreekranchevents.com

---

You Can Post a FREE Business Listing Here!

---
LAEC Article Continued....
The LAEC has been the host venue for the Annual Pasadena Tournament of Roses EquestFest. EquestFest is a special exhibition in celebration of the equestrian units in the Pasadena Rose Parade. EquestFest at LAEC gave horse lovers and the general public an up close and personal glimpse into the equestrian groups who were selected to ride and participate in this year's parade. Audiences were treated to many breeds performing drill routines, dancing, trick riding and more. EquestFest was televised live on RFD-TV as well. Other well received events throughout the year include the Fiesta of the Spanish Horse, The Hollywood Charity Show with the William Shatner Charity Event, and the CALNET Disabled Riders Horse Show. There is truly an event for everyone and a horse of every type at LAEC - disciplines such as Reining, Dressage, Hunter-Jumper, Gaited, Trail, Polo and both Western & English Pleasure . Horse breeds include American Quarter Horses, American Saddlebreds, Miniature horses, Andalusians, Arabians, Warmbloods, Thoroughbreds, Fresians, Paints and Peruvian Paso - to name only a few! The facility Calendar can be viewed all year long on the website at www.la-equestriancenter.com . Event tickets can be purchased at The Center Box Office or by visiting www.horseticket.com .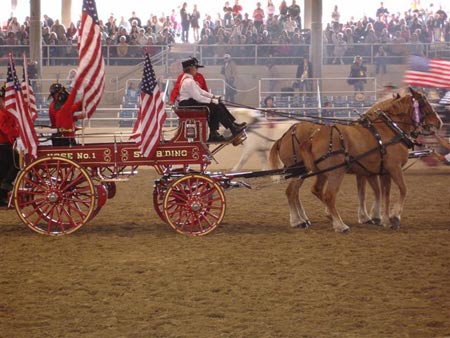 One of the first goals of the new facility back in the eighties was to reach a new audience for the horse industry. This goal has been accomplished time and again over the years and continues today. For many years, the LAEC has cultivated the love of great horsemanship, the sport of equestrian competition and the general fascination of horses in people of all ages. For the horse-crazy child who begs her parents for a pony for her birthday, to the up and coming non-pro Olympic hopeful.dreams become reality everyday for those who enjoy any experience at the Los Angeles Equestrian Center. The facility's General Manager, George Chatigny, extends a personal invitation to all equestrians - be it the seasoned exhibitor, or the occasional trail rider, or even the "horse show daddy." Tradition lives on today - come be a part of the equestrian heritage at the Los Angeles Equestrian Center!
The Featured Facility article was written by Sue Schindler with George Chatigny, General Manager of the LAEC. To be considered as an upcoming Featured Facility, please contact Sales Manager at 951-240-0921 or email info@socalequine.com