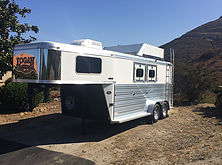 2016 LOGAN RAZOR
Gooseneck - 2 horse slant load trailer ...
Excellent Condition! Washed down after every use.13,500 BTU HVAC, Awning - 15', Hay rack, Ladder, Tack room, 30 gal water tank, queen mattress, drop-down windows, Whiz proof urine drain floor.
Make Manf: Logan Coach
Model Nane #: Razor 2-Horse
Size/dimensions: 15'10"X7'3"X7'
Year: 2016
BLUE BOOK MSRP = $26,487,34, AVG. RETAIL - $23,274.40
Asking $19,900
Visit www.gaitedhorsesrus.com
---
1992 Trails West 3 Horse Slant Trailer. (Brown). Great floor and tires. Current Registration. All paperwork in hand.
$3,800
760.975.5360 Stephen
11/26
---
2018 Bison Ranger 4 Horse trailer with 14' Living Quarters with slide-out. Only used for hauling 2 horses a couple of times - Living Quarters are brand new/unused. Family situation has changed, which is why I have to sell. Fully loaded, just had fans installed for each horse stall. Please email for more information at bsch101@gmail.com. $45K obo.
10/08
---
---
---
You Can Post a Photo or Text Classified Ad Here!
We Accept: