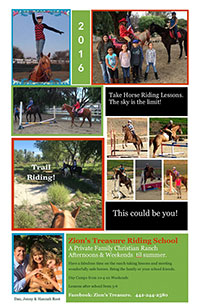 Horse boarding, training and trail riding ranch business for sale near Oceanside, CA. Business runs on 5 acre ranch with 2 years remaining on 3 year lease. Price: $28,000 OBO. Includes 20x30 & 60' mare-motel units + 3 box stalls including one with in/out 30 ft. run. Barn includes tack room, hay room and grain room that can be converted into additional box stalls. Large outdoor arena with night lighting. Full use of well water, 2 wash racks and 4 tack racks also available riding club located next door that allows timeless opportunities for unlimited trail riding, round pen training, and two additional arenas to enjoy. Excellent opportunity for at Hunter Jumper trainer on the leased business property since the large arena includes all jumps necessary for competitive events. LPh: 209-814-6804
---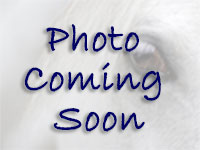 Misc. Pipe Corral Panels:
1: 1/24 ft w/gate and 2/24ft - 4 rail - $300.00
2: Full set - 5 rail, 3/24ft, 2/12ft, 2/12 ft w/gates - makes 2 side by side 12/24ft corrals- excellent condition $800.00.
3. 3 Stud panels 24ft long, 6 ft tall with welded wire - $175 ea. or $475 for all.
4. Dog kennel - chain link, 4x10 feet w/chain link top and a few extra panels and gate - $200.00
Cash only - you pick up
Cindy - 760 519 0405
4/22
---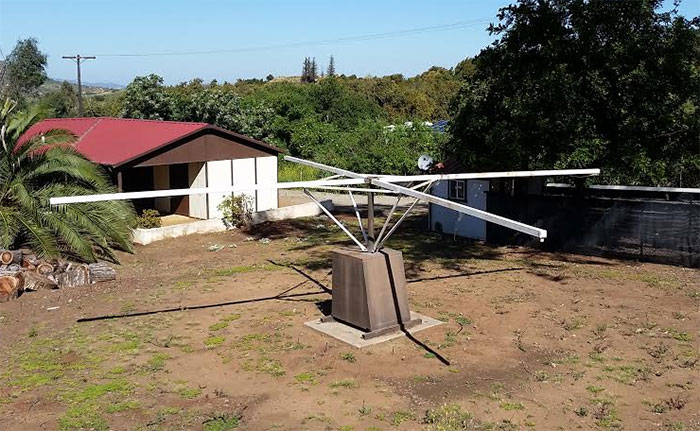 Four horse hot walker 4 sale
in great working condition. Remodeling
and need to sell.
$2,000.
To make appoint to see please call; 619-295-1195
3/17
---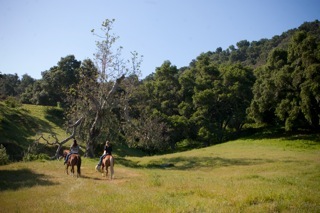 Welcome! Nojoqui Horse Ranch is a full service Boarding and Training facility complete with irrigated grass pastures, fully enclosed show barns, 2 arena's, and a round pen. We have miles and miles of the most beautiful trails overlooking the mountains to the ocean. We specialize in colt starting, reining and cutting, (we have live cows and a mechanical one) lessons (beg - adv), private trail rides, and retirement boarding. Please visit out website for more information or just give us a call! 805-325-1941
3/17
---
Selling two, brand-new 9 x 3 x 2 troughs.
$200/each or $400 for both ($600 value). FREE SHIPPING.
Email: taylor.greenthal@eyeboogie.com 3/1
---
Beautiful prefab barn 2 stall/corral and tack and feed room. Only 2 yrs old barely used. Email: Lexyhearst@gmail.com
5/23
---
Book with Paul Brown artwork, and ties to the Onondarka Riding School, signed by JoAnn Postel and Nancy Turill. Includes Onondarka Riding Club decal by Paul Brown. All items c. 1965. Email: lizstrauss@comcast.net
5/12
---
Free estimates for rain gutter installation/cleaning on barns, mare motels, homes, etc. 30+ years experience. Seamless, aluminum gutters. Typically cost 50% less than Home Depot/Lowes. We accept credit cards. 100 year warranty. Will travel up to 2 hours from Riverside, CA. Text/voicemail 909-576-6768
5/12
---
Stall Drapes!!!!!
Beautifully crafted Stall Drapes from the industry leader CloudNine! We ship throughout the US and worldwide! Pricing is fantastic and our clients are our best advertising.
Phone: 765-717-0812
Email: michael@welcometocloudnine.com
3/17
---