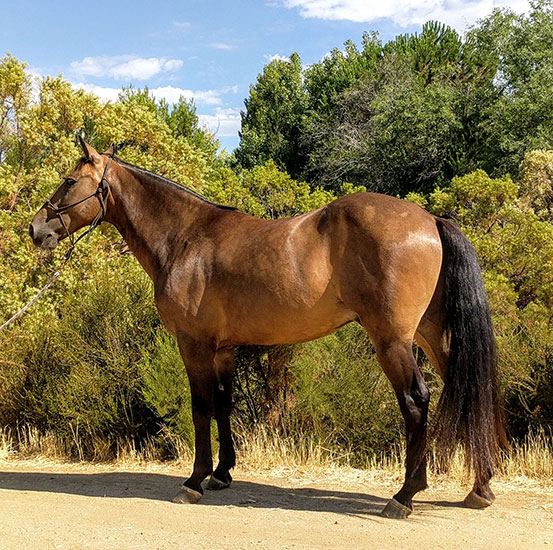 Westly
Unregistered Gaited Gelding
Westly is an 8 year old, sooty buckskin and stands almost 15 hh. He has been dna tested and the test came back saying he is mostly Mo. Fox Trotter.
I could go on all day about what a great horse he is! He is NOT spooky, rides alone and likes big groups and just doesn't care what position he is in. Westly is very calm, has been on overnight camping trips, stands tied all day, friendly, good manners on the ground and under saddle. This is a nice horse. His Gaits are comfortable at all speeds. will walk all day on a loose rein, neck reins and direct reins. He also has a nice collected canter. He is a well built horse with good feet and legs. He is currently shod but has always been barefoot before this. Beginner friendly to experience rider would love this guy. Asking $8,500 for this nice guy.
Visit our website for other gaited horse available to you.
http://gaitedhorsesrus.com
8/17
7/11
---
2008 16 hand AQHA Gelding. Rex is a Showmanship and Western Pleasure machine.
He is started in Trail and Horsemanship and ready to show in the All Around events. Rex is the sweetest gelding, with loads of talent. A quiet and gentle giant. Call Cheryl Busick @ 925-683-7208 or Jodie @ 510-506-3240

https://www.youtube.com/watchv=zykO6Cn_df8&feature=youtu.be
8/17
---
BEAUTIFUL, "FANCY", REGISTERED HALF ARABIAN FILLY!
4 YRS. OLD, with "Brains" and a great disposition!!! Show or pleasure. A really wonderful girl!!! $6,000 DELIVERY AVAILABLE....
FOR INFO. AND APPOINTMENT.
Call: 831-325-4202 (NO text please)
Email: dddonell@cruzio.com
6/7
---
"GORGEOUS" Two (2) Yr. old Registered Friesian Filly.
"GREAT Disposition, Presence, beautiful movement, Lots of Hair & Feathers! Very well trained and handled. Should mature to about 16.1hh.... Ties, leads, bathes, clips, and trailers, PERFECTLY!!! Must come and see!
FOR INFO. AND APPOINTMENT.
Call: 831-325-4202 (NO text please)
Email: dddonell@cruzio.com
6/7
---
"THREE ", GORGEOUS, "FIRST CLASS" PUREBRED REGISTERED FRIESIANS.
Two years olds to 2017 weanlings. Colts and fillies. Very fancy! And well breed! "MUST SEE"
PACKAGE PRICES AVAIILABLE!
Call: 831-325-4202 (NO text please)
Email: dddonell@cruzio.com
6/7
---
16.2 Hand Blood Bay, 14 Year Old Artful Investment Gelding for sale to approved home. Been in professional training since the age of 5 on and off for both dressage and jumping. He is back in a program so building strength but ready for his next adventure. Basic dressage, small jumping, trail. Clips, ties, trailers, hot walker. Very sweet boy! Looking for intermediate to experienced rider. Divorce forces sale. Price negotiable depending on home and situation. Asking $3,000 OBO.
Phone: 714-720-3627
Email: woodwardchristina@ymail.com`
5/8
---
Quarter Horse in many movies, not spooky, has been ridden by all ages in arena. Easy keeper, no shoes, eats well. 15 hands, approx. 20 years. Phone: 661 618 3826
Email: jjks@juno.com
8/17
---
OHK Krymsun Gold
16 hand 2007 Gelding out of One Hot Krymsun. A great all-around th who excels in H.U.S, eq & horsemanship. He left with overall champ in every western class at 2017 western IEL. He is super smooth and currently is ridden and shown by youths. located in San Juan Capistrano Ca contact KB Performance Horses at 949 292-6599
$8,000.00 Firm
8/17
---
Very sweet, well broke Missouri Fox Trotter mare. Gracie has a great personality, very in your pocket and friendly. Does great for farrier, trailers well. Easy to tack up, no buck, bite, or rear. Gracie has a nice, smooth gait, lunges well, good ground manners, does well under saddle. Good with horses and dogs.
Age 12, 15 hh, sorrel with flaxen mane/tail, pretty blaze. Asking $1,800 negotiable Email: theponygal@yahoo.com
7/14
---
I have a 9 year old appendix gelding.Has done barrels, crosses water, bridges, street safe, dog safe and does well in a herd setting. He trailers, good for the fairer, no issues saddling, tying, or grooming/bathing. He can be ridden english, western, or bareback.He has sat for a while and will need a refresher. Email: krystalmaldonado@hotmail.com
7/6
---
AMHR Miniature Carting Horse, Sweet Pea. Bay Roan Appaloosa with blue eyes. Has been in parades & shown by a child, great temperament & personality! Well behaved, good ground manners & gets along with other horses. 16 years old Mare, 8.1HH, She has her own harness & cart. For sale as a package or separately. Price $1750
Phone: 661-400-7000
Email: ptladybug@gmail.com
6/19
---
AMHR Miniature Carting Horse, Romeo. Very flashy sorrel with beautiful long flaxen mane & Tail. Carts for pleasure with prancy carriage. Well behaved & good ground manners. Sweet personality & likes people. Good for farrier, grooming & trailering. 15 year old stallion. 7.3HH Price $1750 He has his own harness & cart. For sale as a package or separately.
Phone: 661-400-7000
Email: ptladybug@gmail.com
6/19