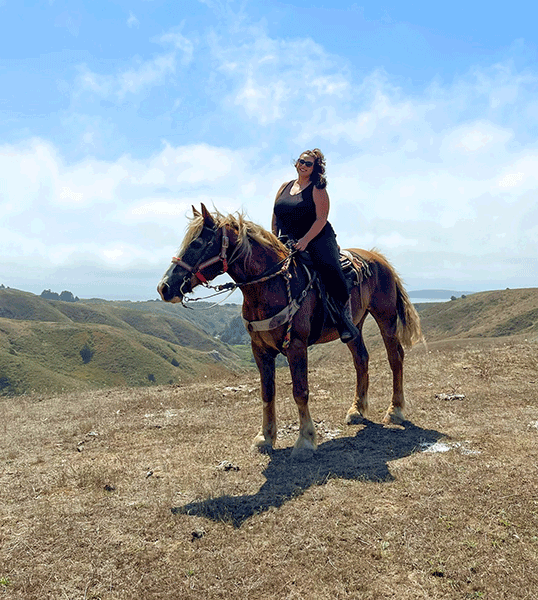 My name is Ashleigh and I am an advanced, confident rider.
I competed through 3rd level dressage and did show jumping and western dressage. I moved to Riverside from Northern CA and am now looking to lease a horse as I miss it dearly! Mostly looking to just have fun, trail ride, give lots of love! I am also open to riding a horse that needs rides/training.
Phone - 7078499797
Email - gottabedunn2@gmail.com
---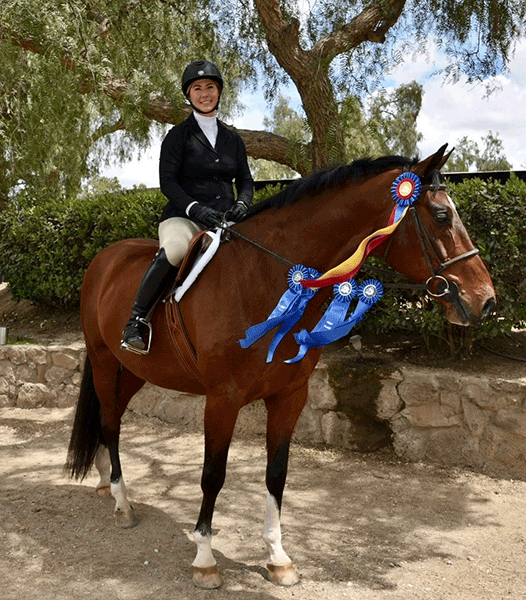 Hi, my name is Emily Johnson.
I am an experienced hunter/jumper rider who owned a OTTB many years ago and I'm currently half-leasing a 17hh warmblood in Moorpark. I am looking for an intermediate to experienced horse capable of jumping 2'6'' for regular lessons and trail riding (showing optional).
Please contact me if you have a horse in mind. Thanks! emilycjohnson@gmail.com or 215-840-7097
---
Hi! I'm a 17 year old rider and I am looking for a western horse to ride for fun, to practice, and go on trails with. I've been riding for a few years and am currently taking more lessons in western. I would like to half-lease, but I am open to other options too. If you're interested please let me know! I live in Escondido, thank you!
Email: elenanorwood04@gmail.com
211128
---
Hi! I am a 16 yr old female who has been riding for 8 yrs. I am looking to lease a jumper/hunter/equitation horse, roughly about 15-16 hands, in OPA for about 3 days a week. I am an experienced, confident, kind, and friendly rider! I am looking for an experienced horse that I can show and compete with. Please contact me if you have anything that works!
714 307 8687
Ava@brandtkids.com
211007
---
Looking for a full-time lease of a dressage horse who is ready to show. Horse will be in full training program with a USDF Silver dressage trainer at a serene private barn in Shadow Hills. Ideally looking for a feed lease, but would do a lease to purchase for the right horse / situation.
Email: lauryn.caldwell@gmail.com
210924
---
My name is Chloe Willett and I am a 15 year old experienced rider, I have been riding for about 4 years now, getting english lessons twice a week and riding horses at my school, and i used to feed lease a mare. I am an eventer, and I am currently looking for a horse that has a bit of spice in their personality, one that is dressage trained and can jump, I would like to be able to have some attitude coming from the horse, and a feed lease. I am located in chino, california, and would board the horse at prado.
Email: chloe.willett@icloud.com
Phone: 909-560-9665
210914
---
Hi there! I am an intermediate rider who rides English (Hunters, Jumpers and Equitation are my specialities). I am looking for either a full or half on-site lease. Mare or gelding only. No preference on breed or height, but would prefer something with a temperament under 4/10. Please contact me with anything you may have and I can tell you more about myself & what I'm looking for!
Phone: 610 810 6620
Email: aliciahrrsn@gmail.com
210901
---
Hi! My name is Lili, and I'm looking for a relaxed and comfortable leasing arrangement. I have been riding since I was a child, mostly Western and trail riding, but I also have some formal English instruction. I'm really just looking to enjoy riding again, and reconnect with a passion of mine. My ideal companion would be sweet and easy going, and as I mentioned before, be up for some trail rides!
Phone: 510 350 6614
Email: lili.m.ruane@gmail.com
210806
---
Hello! I'm a super petite (5'1, 107lbs) adult rider looking for a small horse to lease in North county. I've done both dressage (shown through first, schooled 2nd level movements) and jumping (up to 2'6) but am really just looking for extra riding time as I have a barn I take lessons at. I would especially love to lease a pony that needs more schooling or is green! I'm looking in North County.
Phone: 424 395 7743
Email: mmsilverstein92@gmail.com
210805
---
Hello! 1/4-1/2 lease wanted in the SC, San Juan Capistrano area please. Possibly Trabuco too. I am 48 and have been riding English since I was 6. I had to put my horse down two years ago and am looking for a Safe, easy going and loving buddy to trail ride, flat work and occasional small Jump. Just like the therapy a horse provides. 145 lbs. thanks
949 482 8006
210729
---
Looking for a 1/2 or full lease hunter/jumper out in La Quinta.
Phone: 760 641 7275
Email: Carielou@gmail.com
210707
---
ISO: A western trail horse to lease
Around the areas of San Juan, Nellie Gail and Lake Forest. Willing to travel as far as OPA for the right fit
Horse requirements:
• 15+ Hh
• Western
• Safe temperament
• Trail broke (goes out alone and with others)
I would ideally like to ride 1-2 times per week
Phone: 949 771 4881
Email: dans717@att.net
210614
---
---
---
---
You Can Post a Photo or Text Classified Ad Here!
We Accept: