Here we go again! The HUGE West Village at Calabasas is up and running. The New Home Company is completely ignoring the fact that there are riding and hiking trails across this property, and have been for a long time. The developers and Planners are unresponsive to the needs of the horseback riders for a parking area for horse trailer rigs. We need to set them straight!

We in Equestrian Trails, Inc., Corral 36, attended and spoke of our dismay to the City of Calabasas during the previous hearings for this project on the subject of equestrian parking space.

Please note the short time schedule for this particular hearing!

~~Stephanie Abronson
ETI Corral 36, Newsletter Editor

From John Suwara, The Calabasas Coalition: info@thecalabasascoalition.org

"Started looking at the DEIR and discovered that access to the eastern end of the property has been eliminated. The roads are now marked private. Access to the trails on the eastern side of the property have been eliminated. See DEIR Figure 2-12 and Figure 4.1-12."


This "huge project. 15 - 3 story buildings each [building] containing 12 condominium/apartments. There is a smaller commercial/retail building. Project requires massive grading 2.5 million cubic yards of dirt to remediate the landslide on the southern side of the property to create pads for the buildings.

"There will be access through the property to Gun Club Trail which connects to other trails in the hills. When asked in previous meetings the developers rep said there was no equestrian parking. Good question to ask at next week's planning commission meeting."

The Draft Environmental Impact Report outlines the project and its potential impacts. You can see the report here: West Village project. The comment period is now open and it's important the community express their comments for consideration.

-

Planning Commission Meeting - January 3, 2019
CITY HALL COUNCIL CHAMBERS
100 CIVIC CENTER WAY, CALABASAS
---
PLEASE SHARE! ATTENTION HIKERS & HORSEBACK RIDERS WHO LOVE THE SANTA MARGARITA RIVER TRAILS: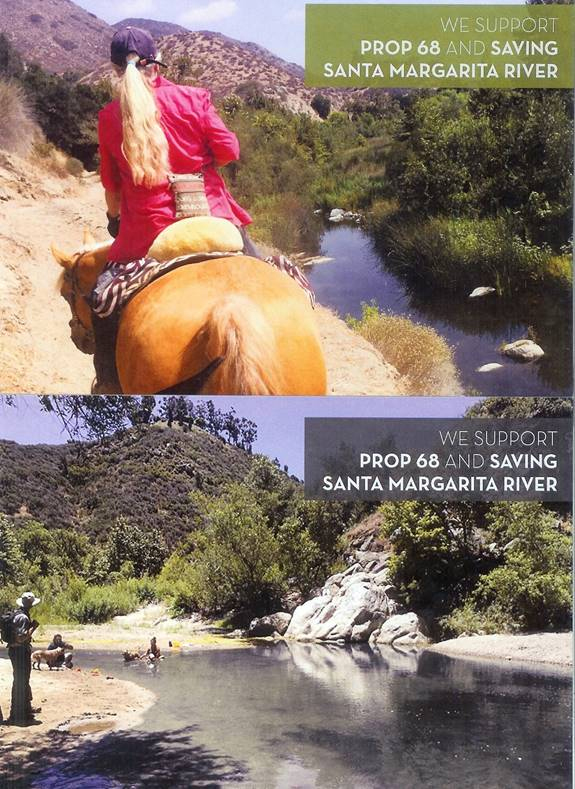 Upcoming Prop 68, CA Clean Water Act, is earmarked to set aside $10 million dollars specifically for the trails WE LOVE to be protected in perpetuity at the Santa Margarita Creek!
You are asked to PLEASE fill out an actual post card to Senator Toni Atkins ASAP to show your support of this funding. The postcards are available at Scott Koth's State Farm Insurance office in Murrieta: 39540 Murrieta Hot Springs Rd. 92563 office # is 951-461-4979 (behind the Sonic) PLEASE COMPLETE ASAP AND LEAVE IT IN THE ORANGE BASKET on the reception desk.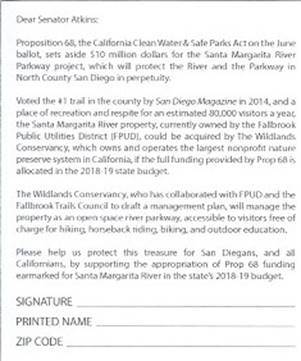 Our friends at the Fallbrook Trails Council, Wildlands Conservancy (new owners of the property) and Fallbrook Public Utility District are asking that we reach out to EVERYONE who cares about this property TREASURE, collect their cards and deliver them in hand ASAP. (They do not want them lost in the mail!)

Thank You for your effort to complete a card(s) TODAY!


Our Contact is: Zachary Kantor-Anaya

South Coast Ecoregion Director

(909) 732-4029
---
---
Free Business Listing Submit Your Equestrian Event
Free Classifieds Site Map Home